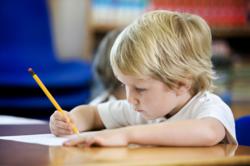 Bright Kids NYC is pleased to announce an extensive offering of programs that will engage students and give them the preparation and skills needed to get ahead during the school year.
New York, NY (PRWEB) June 04, 2013
Bright Kids NYC has created a comprehensive 1-on-1 Kindergarten Readiness program available for children ages 3.5-5 years and a Kindergarten Readiness Class available to students entering Kindergarten in September 2013. The program builds the core skills required for success in kindergarten, and was designed utilizing the Common Core State Standards Initiatives, as well as suggestions from a number of teachers, school administrators, and learning specialists. They will be working with a customized curriculum and certified contracted teachers with a preschool and/or kindergarten teaching background. The 1-on-1program includes an initial diagnostic, Core Concepts Workbook, and seven or nine 45-minute sessions. The class includes an initial diagnostic 5 90 minute classes at the Bright Kids office in Downtown Manhattan.
Studies show that approximately one third of a child's intellectual skills will be developed by age six. The Summer Preschool program exposes students to a variety of experiences designed to help build their foundational skills. The program is excellent for academic enrichment and serves as an introduction for children looking to eventually take the OLSAT®/NNAT®2, Stanford-Binet®, and ERB® exams. The program has Monday/Wednesday or Tuesday/Thursday 10am-12pm options at the Downtown office and runs from 6/3/2013 - 8/30/2013.
Enroll in the #1 NYC G&T preparation program. The G&T Skill Builder 1-on-1Bootcamp is perfect for families who want to get a head start for the 2014 Gifted & Talented exam. Open to students taking the Kindergarten entry exam in January/February 2014, the Skill Builder is an excellent precursor to the G&T 1-on-1 Bootcamp in the Fall. The Bootcamp includes one initial diagnostic to analyze the student's strengths and weaknesses and five 45-minute tutoring sessions that build on those results. The sessions, analysis, and results are all fully personalized for the student. The bootcamp also comes with the Bright Kids Patterns book, and an OLSAT Cards Bundle.
Focusing on the grade-appropriate Reading, Writing, and Math NYS Common Core Standards, the ELA/Math Common Core Enrichment Program will help students finish the school year strong and prepare for next year's rigorous curriculum and exams. These 1-on-1sessions are conducted by the top ELA/Math teachers with six sessions starting at $849 and eight sessions for $999. The program is open to rising 3rd, 4th, 5th, 6th, and 7th grade students and can be done in office or in home.
Open to students preparing for the Lower, Middle or Upper Level Independent School Entrance Exam, the ISEE Summer Fundamentals 1-on-1 Program is designed to familiarize children with the test format, break down fundamental concepts, and introduce key test-taking strategies. Program includes 1 ISEE Diagnostic and seven one-hour sessions conducted in home for the price of $1,499 or at the office for $1,249.