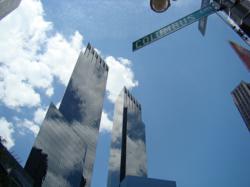 Last year we had to turn away families or give them suboptimal times for tutoring; this year we want to accommodate everyone...
New York, NY (PRWEB) May 17, 2012
With Bright Kids NYC's continued success in preparing thousands of children for admissions and academic exams, the company is opening its second New York office on June 11th, on the Upper West Side. This office will be located at 330 West 58th Street, Suite 409, around Columbus Circle. This center is easily accessible by the 1, A, B, C, and D trains at Columbus Circle. Nicole Roman, who has over 15 years of administration along with teaching and assessment experience, will be running the center on the Upper West Side.
In mid-June, Bright Kids NYC's downtown center is also set to relocate to a significantly larger space at its current address at 225 Broadway; to Suite 1504 from Suite 3104. Both centers will be available for assessments, academic tutoring, and test prep for the ERB (WPPSI-III/WISC-IV), Stanford-Binet, OLSAT®/NNAT®2, ISEE/SSAT, and CTP-4. These expansions are a result of demand from clients for both test prep and academic tutoring. NYC Regional Director Jennifer Liepin said, "Last year we had to turn away families or give them suboptimal times for tutoring; this year we want to accommodate everyone as we know how important test prep is for proper school placement." She also said that, "We expect even more children this year because NYC Department of Education Gifted and Talented Programs switched from the BSRA (Bracken) to the NNAT®2, which is a much harder test and requires more preparation; we already have many families enrolled for our summer Bootcamps™. In addition, private school placement numbers are at a record low, making the ERB even more important in the upcoming school year."
With an excellent reputation, Bright Kids NYC has been founded upon the referrals of satisfied families that have seen their children's test scores significantly improve throughout the course of using a Bright Kids program such as the OLSAT® Bootcamp™ or our publications, such as the ERB and/or OLSAT® Preparation Guide and Practice Tests. Last year 90% of students enrolled in Bright Kids' Gifted and Talented tutoring program scored a qualifying score of the 90th percentile or higher; half of the children who qualified scored in the 99th percentile, giving them the opportunity to apply for coveted citywide schools such as Anderson, NEST+M, STEM, and Brooklyn School of Inquiry (BSI). Our tutors are cherry picked from top institutions in the city; they bring a wealth of experience, thus deliver great results. Beyond Bright Kids' offices, tutoring is also offered in the comfort of students' homes in all five boroughs, as well as portions of Long Island, and North New Jersey. Hamptons tutoring is also available for summer beginning mid-June.
Join Bright Kids in celebrating the opening of the Upper West Side office with a free Wine and Cheese reception. Prizes and a raffle for free books will be available!

Thursday, June 7, 6pm-8pm
Wednesday, June 13, 6pm-8pm
Meet with Nicole Roman, the Upper West Side Manager, and learn about how Bright Kids can help your child succeed. She will be there to answer questions about services provided at the Upper West Side.
To learn more about either of these Bright Kids' options, please contact the office at info(at)brightkidsnyc(dot)com or at 917-539-4575.
Bright Kids NYC Inc. was founded in New York City to educate parents about standardized tests such as ERB (WPPSI-III and WISC-IV), Stanford-Binet, OLSAT®/NNAT®2, ISEE/SSAT, SHSAT, Hunter High School Exam, ITBS, and the CogAT through workshops and consultations and to prepare young children for such tests through assessments, tutoring, and publications. You can learn more about us on our website http://www.brightkidsnyc.com/.