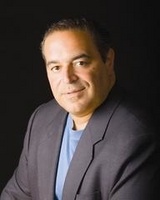 Together we get to bring this amazing message and vision into reality
Lauderdale by the Sea, FL (PRWEB) May 15, 2008
Bright Steps Forward, a 501c (3) nonprofit organization, announced today that Joseph R. Gannascoli is now their National Spokesperson. Gannascoli played the infamous Vito Spatafore on HBO's hit series The Sopranos.
While Joe is constantly working on new projects, movies, and promoting his new best selling cookbook novel "A Meal To Die For", he is now the National Spokesperson for Bright Steps Forward. "I am thrilled to be the Spokesperson for Bright Steps Forward - I get to fulfill my personal commitment to making a difference in our work together," said Gannascoli. "Together we get to bring this amazing message and vision into reality," he continued. Joe can be seen in the Bright Steps National Television campaign, print ads, and will be touring the country with Bright Steps at their meetings, events and conventions.
Bright Steps Forward was founded by Eileen de Oliveira. Her son, Lucas, was born with cerebral palsy and as a result of her commitment to getting him the treatment he needed, Lucas learned to crawl and walk using both Intensive Pediatric Therapy in conjunction with Hyperbaric Oxygen Therapy. It was this breakthrough in Lucas' development that inspired Eileen to create Bright Steps Forward. "We are so excited that Joe has joined our team. He has already opened doors for us that we never imagined," stated Eileen. Bright Steps are now reaching children and families all over the world with their work. For more information and details visit http://www.brightstepsforward.org.
Bright Steps Forward is committed exclusively to fundraising for scholarships used by children with physical disabilities who do not have the funds to pay for intensive pediatric therapy. This is a groundbreaking type of physical, occupational and speech therapy that puts children with disabilities on the fast track toward a more independent life. Since this therapy is relatively new to the United States, it is not covered by insurance plans, leaving most families with few options and the inability to receive care that could permanently change their lives. Joe Gannascoli and Bright Steps are planning several media tours and events nationally. Joe will be available for radio and television interviews upon request.
Contact:
Eileen de Oliveira
877-NOW-ICAN
954-608-9930
eileen @ brightstepsforward.org
http://www.brightstepsforward.org
# # #