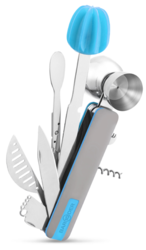 "Bar10der is the perfect compact solution for mixing drinks and cocktails on the go..."
Sussex, Wisconsin (PRWEB) February 19, 2013
BrightandBold.com has just introduced the Bar10der, an innovative new portable 10-in-1 foldaway bar tools gift, to their kitchen and bar accessories collection. Folding up and storing in a compact space, it's easy to take along for picnics, tailgates, outdoor parties, bbqs and more. The Bar10der is available in blue or orange and features the following 10 bar tools:
1.MUDDLER: Crush fruits, spices, herbs and more to extract flavors
2. STIRRER: Expands up to 6 inches to blend cocktails thoroughly
3. KNIFE: Slice and dice ingredients and garnishes with this 4 inch blade
4. CHANNEL KNIFE: Create twists and other garnishes
5. ZESTER: Capture the tang and aroma of citrus fruits
6. REAMER: Add freshly squeezed fruit juices
7. JIGGER: Get a perfect 1/2 oz or 1 oz pour every time
8. BOTTLE OPENER: Pop the top off a beer or mixer
9. CORKSCREW: Uncork your favorite wine bottle
10. STRAINER: Separate ice from liquid as you pour
Pam Anderson, Co-Owner of BrightandBold.com, says, "We were so excited to begin carrying this exciting new portable bar tool in plenty of time for the summer picnic and bbq season. It has so many uses and is super easy to clean. With MLB's Opening Day for baseball coming up, there will be millions of baseball fans tailgating across the country, and our Bar10der is the perfect compact solution for mixing drinks and cocktails on the go. It would make a really stylish, functional and unique Father's Day Gift, as well."
The Bar10der 10-in-1 Bar Tool is made from BPA-free plastic, durable rubber and high quality stainless steel materials. Easy to rinse clean and air dry, it can also be the perfect solution for those who live in condos, apartments and dorms who have limited space for a wet bar and need compact bar tools and accessories.
BrightandBold.com just introduced the Bar10der to their customers and it has been a very popular product to date, with many giving the bar tool as a unique groomsmen gift. Bar10der retails at BrightandBold.com for $49.95 with free shipping. For more details on the Bar10der 10-in-1 bar tool set, or to buy a Bar10der, see http://www.brightandbold.com/babamu.html.