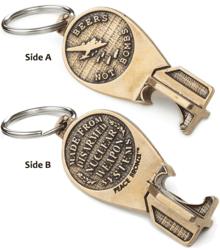 "Bottle Openers cast from metal made from disarmed, recycled, melted nuclear missile systems left over from the Cold War Era..."
Sussex, Wisconsin (PRWEB) February 20, 2013
The Beers Not Bombs Bottle Opener, just introduced in the bar accessories collection at BrightandBold.com, is a unique military gift with a piece of history and an interesting storyline. With the search for unique Father's Day gifts approaching quickly, this bottle opener may just fit the bill.
Here is the backstory: The US Government used to have a lot of nuclear weapons stored around the country. Over the past few decades many have been disarmed and destroyed. These bottle openers are made with Peace Bronze which is melted metal which starts with the copper cabling that was once used to connect the silos of the fearsome U.S. nuclear missile system. Peace Bronze has been tested and guaranteed safe by three separate sources. The metal has been reformed into both a useful and stylish unique bottle opener, called Beers Not Bombs, in honor of the material it was cast from.
Pam Anderson, Co-Owner of BrightandBold.com, says "Of the hundreds of products we carry in our store, this product has the most interesting storyline and when we tell customers what they are made from, they buy not just one, but two, three or more. Everyone has a person on their gift list who would love to have this bottle opener in their man cave or wet bar and tell the Beers Not Bombs story to their friends when they serve them a drink. It is built super durable and is a bottle opener that can be passed down to future generations."
The Beers Not Bombs Bottle Opener is available at http://www.brightandbold.com and retails for $19.95 with free shipping.