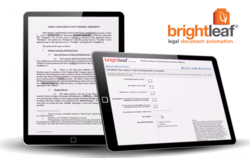 "Brightleaf Personal lets lawyers create documents and complete deals much more quickly and flexibly, from iPads and other mobile devices...for free"
Westwood, MA (PRWEB) November 05, 2012
Boston-area Brightleaf Corporation today released the free, portable Brightleaf Personal version of the company's Legal Document Automation platform. The accounts, which come equipped with automated versions of popular venture financing documents such as the National Venture Capital Association's Model Legal Documents, enable attorneys to draft sophisticated deal documents in less time and at lower cost, from their desks or their iPads.
Better still, attorneys who want to customize these industry-standard documents, or who want to automate their own documents, or who want to create collaborative deal tools they can share with clients...can easily do so by upgrading to one of Brightleaf's other account levels.
Why this matters: These days, headlines constantly clamor about the pressures that lawyers and law firms face. Traditional outlets like The New York Times, The Wall Street Journal and The Economist; trade publications like American Lawyer, ABA Journal, and The Journal of the Association of Corporate Counsel; online magazines like Slate, and countless industry commentators and bloggers write frequently of the economic challenges pervading how firms attract, provide services to, and charge clients. With more competition and more cost pressure and more clients demanding alternative fee structures and faster deal cycles, law firms need to adapt. Brightleaf Personal represents a powerful, flexible tool these firms can use to confront the challenges they face.
Dan Gaffney, Brightleaf President & CEO, explains: "Brightleaf Personal lets lawyers create financing documents and complete venture deals much more quickly and flexibly. From iPads and other mobile devices, lawyers sign up for free Personal accounts, select from multiple, industry-standard documents types, and submit basic deal data and deal logic. In seconds they've drafted complete, fully formatted sets of Microsoft Word documents…securely, privately, from anywhere."
"Then, for greater customization, lawyers can quickly upgrade to one of the premier Brightleaf versions—Professional or Publisher—and inexpensively get their own forms automated. They can even publish those forms to their clients' Brightleaf Personal accounts, creating deal collaboration workflows that drive new business. A venture lawyer (for example) can automate their favorite seed bridge documents, customize them for six different VCs, and give each of those VCs their own individual deal initiation engine that funnels work back to the lawyer. The clients get better services; the firm gets more work; everyone gets faster deal cycles."
Get your free Brightleaf Personal account here.
About Brightleaf: From AmLaw 50 firms to micro-boutiques, Boston-area Brightleaf Corporation deploys its cloud-driven, Microsoft Word®-based legal document automation platforms to make lawyers more productive and legal work more profitable. Founded in 2006, Brightleaf is based just outside Boston.