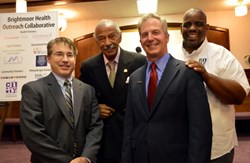 Beaumont's mission as a not-for-profit organization includes providing health care for people regardless of where they live or their financial circumstances.
Detroit, Mich. (PRWEB) September 03, 2013
In a show of regional cooperation, a suburban-based health system, two legal services agencies, a federally-qualified health provider, a medical school and a law school are joining together to help residents of one of Detroit's poorest and most medically underserved neighborhoods.
The Brightmoor Health Outreach Collaborative was launched this week with a four-day health fair held at the City Covenant Church and Mission, 13624 Stout, Detroit, in cooperation with the Brightmoor Alliance. Project partners will hold quarterly, four-day health fairs where free medical, dental and legal services will be offered to Brightmoor residents.
The $268,000 project is supported by a three-year grant from the Jewish Fund and corporate donations from Comerica Charitable Foundation.
The only collaboration of its kind in Michigan, partners in the project include:

"Beaumont's mission as a not-for-profit organization includes providing health care for people regardless of where they live or their financial circumstances," says David Wood, M.D, executive vice president and chief medical officer, Beaumont Health System. "This project fits with our mission and also with our commitment to support revitalization of the city of Detroit."
Richard Krugel, M.D., chairman of the Jewish Fund board of directors, says, "The Jewish Fund is proud and pleased to be a partner in this important health outreach project. The expertise and compassionate health care provided by the collaborating partners will enhance access to quality health and wellness services for Brightmoor residents."
Brightmoor is a four-square mile area in northwest Detroit defined by the Brightmoor Alliance as being bordered by Puritan Road to the north, the CSX railway to the south, Evergreen Road to the east and Telegraph Road to the west. Brightmoor was created as a planned community of inexpensive housing for migrants in the early 1920s. Most of the residents worked in the automobile industry. Over decades, it has been transformed from a thriving working-class neighborhood to one of abandoned homes and businesses.
According to the 2010 U.S. Census, 50 percent of its 12,836 residents have incomes below $25,000 annually and one-third live below $15,000. Brightmoor has Detroit's highest child poverty rate. Brightmoor children have the highest number of emergency room visits for asthma-related complications in the Detroit metropolitan area.
The collaborative's first health fair runs from Aug. 27-30; the next fair will take place in November. There will be an ongoing assessment of health needs so that the programs offered at future events will address specific health concerns of the Brightmoor community.
"Covenant Community Care provides health care to those who need it most," says Paul Propson, executive director, Covenant Community Care." We are privileged to work with our partners to meet health care needs that our neighbors at the Brightmoor Alliance and City Covenant Church have identified as priorities for their residents."
Participants screened at the events will be referred to local clinics for follow-up care, including the Covenant Community Care Clinics in Detroit and Royal Oak, the Newton Healthcare Clinic in Detroit and the Outpatient Clinic at Beaumont Hospital, Royal Oak.
For more information on the Brightmoor Health Outreach Collaborative, call 313-799-2076.
Beaumont and Covenant Community Care partnered in opening a federally qualified health center on Woodward Avenue in Royal Oak in 2010. The center provides primary care for all ages, including obstetrics, pediatrics and preventative care, such as wellness checks for children and immunizations. Beaumont also supports the Covenant Community Health Centers in Detroit with volunteers, specialist services, inpatient care and lab testing.
Beaumont partnered with the Legal Aid and Defender Association to create the Legal Aid for Children and Families program in 2009. This free legal assistance program at Beaumont Children's Hospital is designed to improve the health and welfare of low-income children and their families by addressing the underlying causes of poor health among children.
# # #