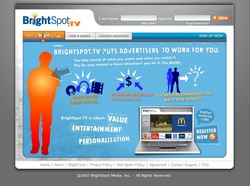 BrightSpot Media has been a valuable partner to us, and we congratulate them on their success thus far
SCOTTSDALE, Ariz. (PRWEB) October 29, 2007
With BrightSpot.TV, consumers spend a few hours each month watching and interacting with commercials they find relevant and entertaining. These consumers originate from well established brands such as Gamefly, Napster, MLB.com, NBA, and XM Canada. Consumers from these trusted companies understand the value of having advertisers pay for portions of their subscriptions in return for watching their targeted commercials.
"BrightSpot Media has been a valuable partner to us, and we congratulate them on their success thus far," said Camille Watson, vice president of marketing, Gamefly. "The reason we signed on with BrightSpot when they launched is simple, they offered a cost-effective method for increasing acquisition and retention rates. We are happy with the partnership and we look forward to working with them for many years to come."
"This milestone serves as validation of the early popularity of the BrightSpot.TV advertising platform and the strength of our targeting capabilities," said Aaron Martens, CEO and founder, BrightSpot Media. "We have successfully established ourselves as a pioneer in the online video advertising industry, and we expect to continue to deliver a powerful, cost-effective platform for advertisers to reach their desired customer, a rewarding and engaging experience for consumers, in addition to enabling our content partners to increase retention and acquisition rates."
BrightSpot.TV has grown exponentially since the first registered member signed on in October 2006. Highlights of the past year include:
-- Reach nearly 4,000,000 consumers
-- 200,000+ streaming videos ads viewed per month
-- 6 content/subscription providers
-- Nearly 3,000,000 market research questions answered
-- 40+ advertisers campaigns
"Although we are satisfied with our results to date, we won't rest on our laurels. We're committed to delivering the most possible value to our key customers -- audiences, advertisers and content/subscription providers," Martens concluded. "Our forward-looking strategy capitalizes on the emerging trends in our industry and having a more customer-focused business, supported by robust technology, will speed the development of leading-edge experiences for our most valuable audience segments. We plan to drive growth and profitability by tapping into our deep audience insights to create a full-fledged advertising network."
About BrightSpot Media
BrightSpot Media is the creator of BrightSpot.TV, an interactive online video platform created to increase advertising effectiveness by delivering highly qualified permission-based content to consumers whose voluntary participation earns them credit toward movies, music, streaming content or monthly subscriptions to such popular online services as: GameFly, Napster, NBA.com or MLB.com. BrightSpot eliminates the waste associated with existing advertising channels and delivers a highly measurable, interactive media experience with an enthusiastic and tightly focused audience. Founded in 2004, BrightSpot Media is a private company based in Scottsdale, Arizona. For more information about BrightSpot Media, please visit http://www.brightspotmedia.com or http://www.brightspot.tv.