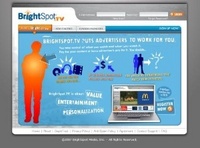 Napster is one of the largest on-demand music subscription services in the industry and we're delighted that BrightSpot can help deliver value to the company's existing subscribers and provide an option for new customers who want access to the expansive Napster library without paying a monthly fee
SCOTTSDALE, Ariz. (PRWEB) July 23, 2007
Napster To Go is the world's first portable music subscription service, enabling consumers to download an unlimited number of tracks from Napster's extensive catalog of new releases, playlists and over 50 years of Billboard charts to their PC or compatible MP3 players for $14.95 per month. Under the terms of the relationship, consumers can log onto http://www.BrightSpot.tv/napster and earn credits worth up to $15 towards Napster each month simply by viewing highly targeted, engaging and entertaining online video advertisements, enabling them to cover their Napster To Go subscription.
"Napster is one of the largest on-demand music subscription services in the industry and we're delighted that BrightSpot can help deliver value to the company's existing subscribers and provide an option for new customers who want access to the expansive Napster library without paying a monthly fee," said Aaron Martens, chief executive officer and co-founder, BrightSpot Media. "We strongly believe BrightSpot.tv brings to life an entirely new and rewarding scenario, where we all have the choice of what to watch, when to watch and most importantly, why to watch. BrightSpot is committed to creating a more rewarding advertising experience which means removing the irrelevant and intrusive clutter common with most traditional advertising channels today."
About BrightSpot Media
BrightSpot Media is the creator of BrightSpot.tv, an online video platform created to increase advertising effectiveness by delivering highly qualified permission-based content to consumers whose voluntary participation earns them credit toward movies, music, streaming content or monthly subscriptions to such popular online services as: GameFly, Napster, NBA.com or MLB.com. BrightSpot eliminates the waste associated with existing advertising channels and delivers a highly measurable, interactive media experience with an enthusiastic and tightly focused audience. Founded in 2004, BrightSpot Media is a private company based in Scottsdale, Arizona. For more information about BrightSpot Media, please visit http://www.brightspotmedia.com or http://www.brightspot.tv.