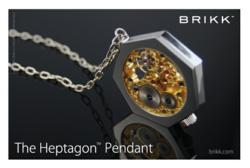 The Heptagon is a shrine to the number seven, a number with cultural, scientific and religious significance.
Los Angeles, CA (PRWEB) April 16, 2012
Brikk (http://www.brikk.com), design and engineering pioneers, announced today the launch of their Heptagon jewelry collection, inspired by the number seven. In searching for a signature shape for their designer jewelry line, Brikk found the Heptagon - a geometric seven-sided form – is virtually unused as a mainstream shape in the industry.
The heptagon is a shrine to the number seven, a number with cultural, scientific and religious significance. Some of the most common associations with this number include the seven colors of the rainbow, seven seas, seven continents, seven musical notes and seven days of the week.
All of the worlds major religions attribute great importance to the number seven including Christianity, Judaism, Islam, Hinduism and Buddhism. The list of unique qualities and distinctions for seven literally goes on and on.
The Heptagon jewelry collection has two editions: the Heptagon Standard and the Heptagon Deluxe. The Deluxe collection, the first to be launched, is made of the precious metals platinum or yellow gold and has diamond and black carbon coating options.
The collection is comprised of three men's rings, three women's rings and a unisex pendant The pendant is termed 'horological jewelry,' and contains a fully functional Swiss made skeleton mechanical watch movement suspended between two pieces of sapphire glass and features nearly three ounces (81 grams) of precious metal. Pricing for this collection starts at US$2,650 for the rings and US$19,180 for the pendant. The collection is available at select fine jewelry stores throughout the world and on the Brikk Etsy page (http://www.etsy.com/shop/BrikkUSA).
The Heptagon Standard collection, arriving in Fall 2012, will feature an expanded line crafted of silver at a lower price point.
Brikk's 'profit for philanthropy' model funnels proceeds to assist populations around the world suffering from hunger and starvation. For each product sold, a specific amount of rice is allocated and distributed to those in need through select NGOs to areas in need such as Somalia and the Horn of Africa. Brikk's dream is simple: that other luxury brands will follow their example and adopt a permanent 'profit for philanthropy' model. The Heptagon Deluxe collection features a metric ton of rice (1000kg or 2,200 pounds) distributed to the hungry for each piece purchased.
About Brikk
Brikk designs and manufactures couture products and accessories for the technology, lifestyle, and fashion industries. A percentage of the proceeds from each purchase of a Brikk product is given to aid humanitarian efforts in the form of rice. The vision of CEO Cyrus Blacksmith, a former designer of computer systems and hi-tech media installations, Brikk's team consists of elite experts in Industrial Design, Engineering, Physics, Marketing and Distribution. Previously released by Brikk was the Trim for iPhone 4S and iPhone 5, a couture case made of titanium and finished in Gold, Platinum or Black DLC. Brikk is headquartered in Los Angeles where all products are currently manufactured, with offices in Germany and future plans to manufacture in Europe.
Media Contact:
Cyrus Blacksmith
Brikk LLC and Brikk GmbH
Email: cy(dot)blacksmith(at)brikk(dot)com
Phone: 855.55.BRIKK. Ext. 727