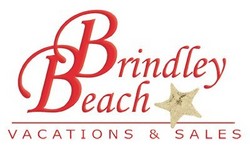 We are excited about the opportunity of Brindley Beach Vacations being a ResortQuest affiliate and operating in conjunction with them as a partner
Corolla, NC (PRWEB) April 7, 2009
Brindley Beach Vacations a leading vacation rental and real estate firm located in the Outer Banks of North Carolina has the announced the acquisition of ResortQuest Outer Banks. This acquisition will bring the total number of professionally managed vacation homes under the Brindley Beach Vacations umbrella to over 500 with over 7,000 expected arrivals annually and revenues projected to exceed 20 million dollars.
"The acquisition of ResortQuest Outer Banks is very exciting for our entire team as it brings us not only additional quality vacation properties to offer to our clients but also created an economy of scale that will allow us to continue to expand upon the services to our guests that has made Brindley Beach Vacations famous as well as increasing revenue for our homeowners," stated Doug Brindley, Owner of Brindley Beach Vacations & Sales. "Having been involved with ResortQuest since 1998 when ResortQuest acquired 'B&B On The Beach' - I am very happy to be home working with homeowners, guests and employees that I have known for the last 25 years in the vacation rental business in Corolla and Duck. We look forward to a very successful future."
Brindley Beach Vacations was founded in 2003 is owned and managed by Doug Brindley along with partners Bobby and Kelly Hanig and their offices are located at 1023 Ocean Trail in Corolla, North Carolina. All inquiries regarding this acquisition should be directed to Doug Brindley at 252-453-3335 or by email at Doug@BrindleyBeach.com.
After the sale, Brindley Beach Vacations will maintain a partnership with Resort Quest. They will become a member of ResortQuest's Partner Affiliate Program where they will have a presence on ResortQuest's website along with other Partners currently representing over 100 destinations world-wide. "We are excited about the opportunity of Brindley Beach Vacations being a ResortQuest affiliate and operating in conjunction with them as a partner" said Park Brady, CEO of ResortQuest. ResortQuest will continue to manage their other operations in Colorado, Utah, Idaho, Florida, Delaware and South Carolina and they are not affected by this sale.
Brindley Beach Vacations specializes in professionally managed vacation rentals in the northernmost corner of the North Carolina's Outer Banks offering vacation rentals and sales in Duck and Corolla including the communities of: Carolina Dunes; Pine Island; Currituck Club; Ocean Lakes; Buck Island; Monteray Shores; Corolla Light Resort; Ocean Hill and The Villages at Ocean Hill Resort.
More information on Brindley Beach Vacations & Sales can be found on their website: http://www.BrindleyBeach.com. The site features secure online availability and booking for vacation rentals, detailed property information including pictures, area information, information on local attractions, directions, local webcams, emergency information, homeowner access through OwnerNet™, Real Estate Sales Information and a brochure request form. Corolla, Duck and the Outer Banks is a convenient trip from most of the east coast of the Unites States including Washington DC; Baltimore, MD; Richmond, VA; Charlotte, NC; Columbia, SC; Philadelphia, PA and New York/New Jersey. To reach Brindley Beach Vacations & Sales, please call 877-642-3224 or email the company at Rentals(at)BrindleyBeach(dot)com.
About Brindley Beach Vacations & Sales
Service First…Fun Always! - Brindley Beach Vacations and Sales is owned and operated by Doug Brindley along with partners Bobby and Kelly Hanig. They have been prominent in the Corolla and Duck real estate rental and sales industry since 1998. Doug began in the business in 1984 and Bobby and Kelly Hanig joined his team in 1994. Their primary and only focus is the delivery of exceptional service to all of their Outer Banks owners and guests on vacation. The definition of service is someone in front of you helping to solve your problems NOW. Together, they also manage and operate THE POOL GUY - the largest pool and spa operator in the Outer Banks.
Every guest and owner of Brindley Beach Vacations experiences the true meaning of "Service First..Fun Always!" Brindley Beach Vacations can be found on the web at: http://www.BrindleyBeach.com; reached via phone at 877-642-3224 or via email at Rentals(at)BrindleyBeach(dot)com.
###