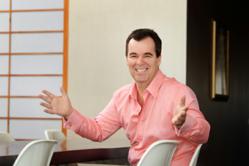 Seats at the 'How to Buy a House for $1' seminar in Brisbane are filling up fast as property investors search for proven alternatives for buying and selling houses.
Brisbane, Australia (PRWEB) February 13, 2013
Property investment strategist, author and self-made millionaire, Rick Otton, is internationally renowned for his unconventional methods. On February 17, he will hold a 'How to Buy a House for $1' one-day real estate training seminar to offer Brisbane residents, grappling with an uncertain real estate market post-floods, the unique opportunity to learn his techniques for free.
In a recent media report, the Real Estate Institute of Queensland (REIQ) said Brisbane home values were likely to hold ground despite the devastating floods. However, it believed the rental market would come under significant pressure as displaced residents and tradespeople helping with the clean-up operation competed for available properties.
The REIQ said a federal election called for later this year would also create jitters in the property market.
"Seats at the 'How to Buy a House for $1' property investing seminar in Brisbane are filling up fast as property investors search for proven alternatives for buying and selling houses," Mr Otton said.
A revolutionary investment secret
Mr Otton said he wished to make each seminar participant an extremely bold promise.
"I will reveal my state of the art property investing strategies that are so revolutionary, most real estate agents and traditional property investors don't even know they exist. I will be explaining to those who come along how they can buy a house for $1 – without a bank loan, a deposit, a mortgage, and without any previous real estate investing experience," Mr Otton said.
"They will see me demonstrate how I turn a $1 investment into a monthly cash flow income, and how they can too – to supplement or even replace their current income. And they can do this as many times as they like," he continued.
Mr Otton said the biggest obstacle to financial success faced by property investors was the fact they had been "brainwashed" into traditional ways of thinking.
He said an open mind was needed to leverage the full power of his techniques. Mr Otton has purchased more than 300 properties in Australia and the U.S. during the past two decades using little or none of his own capital, and successfully mentored than 35,000 students from around the world.
"Imagine owning 5 properties, with each one returning you $350 a month positive cash flow," Mr Otton said. "Or 15 properties returning you $5,250 a month positive cash flow. Or 30 properties giving you $10,500 a month in positive income. This amazing secret is so simple, a 12 year old could understand it."
Seating will be strictly limited and early booking is recommended as the February 17 event, usually valued at almost $1,600, is being offered at no charge to the general public. The Brisbane real estate investing seminar will include live demonstrations, interactive exercises and activities, case studies and lessons in cutting-edge strategies.
To register for the limited-seats event visit http://www.HowToBuyAHouseForADollar.com.au.
About Rick Otton
Rick Otton has spent decades making money by snapping up inexpensive real estate and putting it to work building wealth. Now, he's teaching other Aussies how to do the same. He is the founder and CEO of We Buy Houses, which operates in the U.S., U.K., Australia and New Zealand putting his strategies to work every day.
Otton got his start in alternative real estate investment in 1991 and within a year acquired 76 properties. In years after, he made a fortune using his low-risk, high-reward strategies to inexpensively acquire real estate.
Now, Otton wants to share the wealth by sharing the wisdom, teaching us how to buy and sell real estate without cutting banks and other middlemen in on the deal.
Otton has been featured in a variety of television programs and magazines, including Today Tonight, A Current Affair, Australian Property Investor and more.
More information at HowToBuyAHouseForADollar.com.au.