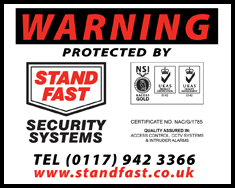 It is a testament to our staff that we have managed to continued to grow in recent years despite the difficult market conditions.
Bristol, UK (PRWEB UK) 1 November 2011
With 7500 customers in Bristol, Bath and the surrounding region, Standfast Security is celebrating 25 years in business this month. Started in 1986 by the current Managing Director, Philip Dadd, the business has grown through a combination of natural growth and acquisition of other businesses. It is now one of the largest independent businesses of its type in the Bristol area.
Philip Dadd, explains: "When I started this business in 1986, shortly after graduating in Engineering, I knew that my business needed to be based on quality with outstanding customer care. It is a real pleasure to me that 7500 customers now trust us with the security of their homes and business premises".
With 19 staff based out of its Redland offices in North Bristol, Standfast designs, installs and maintains intruder alarms, fire alarms, door access and CCTV systems. Many of these security systems are also monitored 24 hours a day, 7 days a week.
Mark Bigwood, Standfast's General Manager, added that "This year is also my 20th anniversary with the company. It is a testament to our staff that we have continued to grow in recent years despite the difficult market conditions."
In the run up to this 25th anniversary a customer satisfaction survey was undertaken: 93% of the respondents awarded Standfast 8 out of 10 (or higher). One customer remarked "Very happy, always feel valued as a customer and when need arises for contact, always a professional service and engineers are very good." Commenting on this, Mr Dadd said that "Whilst he was delighted with this feedback, there are always things that the company was striving to improve upon. After all, we offer our customers a 100% satisfaction guarantee. This includes up to £500 to cover the insurance excess if a home, fitted with one of our alarm systems, is broken into."
Being part of the wider Bristol community has always been important to Standfast, so it was very pleased in August to be asked to provide 24 hour CCTV monitoring in Clifton Village of "Kingdom" the gorilla painted by TV personality, Timmy Mallett, for the 175th anniversary of Bristol Zoo.
About Standfast Security
Standfast provides cost effective, quality tailored solutions for intruder, fire, door access and CCTV requirements to all areas within a 50 mile radius of Bristol. Its services include design, supply, installation, maintenance and repair. Standfast is accredited by the National Security Inspectorate (NSI) to its highest Gold Standard. It is also an accredited SAFEContractor.
Standfast is based at 120 Coldharbour Road, Redland, Bristol BS6 7SL. Tel 0117 942 3366. For more information visit http://www.standfast.co.uk.
###