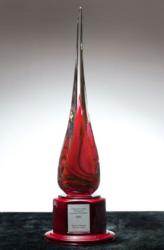 Fort Worth, Texas (PRWEB) November 13, 2012
The Botanical Research Institute of Texas is accepting applications for its 2013 International Award of Excellence in Sustainable Winegrowing. The completed submission (application and wine sample) is due on or before March 31, 2013.
Established in 2010, BRIT's International Award of Excellence in Sustainable Winegrowing honors vineyards and vintners that have demonstrated a commitment to sustainability in both winegrowing and winemaking. It is the only international award of its kind.
Wine organizations are judged for their innovative sustainable practices in the categories of air, water, and land in both winegrowing and winemaking; social responsibility practices; and wine taste. The award attracts progressive wine organizations from around the world that practice "ground to glass" sustainability.
The award will be presented at BRIT's annual fundraiser, Fête du Vin Wine Dinner and Auction on Saturday, October 5, 2013, in Fort Worth, Texas. Guests at the black-tie affair will raise a glass of the winemaker's sustainably grown wine in a special salute, while enjoying a festive evening featuring haute cuisine and spectacular silent and live auctions. Proceeds from the fundraiser benefit BRIT and advance its two-fold mission of conserving our botanical heritage and achieving public understanding of the value that plants bring to our lives.
Applicants are required to provide an assessment of their organization's accomplishments in sustainable winegrowing, winemaking, and social responsibility practices.
Among the 18 criteria judged are seed selection, agricultural and winemaking protocols for saving water, soil conservation, saving energy, packaging protocols for waste reduction, programs for reducing carbon (CO2 e) emissions, social responsibility programs, and plans for continual improvement.
They must describe their organization's conservation efforts in the vineyard and in operations: how waste is avoided, how it is reclaimed, and how the winery extends conservation efforts to its customers. They must also detail the practices they have established to maintain environmentally sound, socially responsible, and economically feasible winemaking principles. A bottle of wine must be provided for a tasting by the judging committee. Because BRIT does not have an alcohol importing license, BRIT requires that all international submissions be made through the winery's US importer/distributor.
For 2012, Trefethen Family Vineyards received BRIT's International Award of Excellence in Sustainable Winegrowing based on its advanced sustainability standards and accomplishments. Prior recipients include Parducci Wine Cellars (2011) and HALL Wines (2010).
The 2013 Sustainable Winegrowing application may be downloaded at the BRIT web site: 2013 International Sustainable Winegrowing Award Application