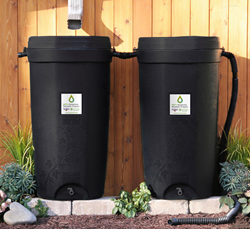 As a conservation organization, BRIT is continually looking for ways to help homeowners take care of their natural resources through the use of native plants and rainwater harvesting." says Will McClatchey, BRIT's vice president of research
Fort Worth, Texas (PRWEB) February 03, 2015
BRIT and the City of Fort Worth will once again offer Rain Water Solutions' 50-gallon Ivy rain barrels for sale in the spring to North Texas area residents at a reduced price. The sale will run from February 16 through April 18.The rain barrel sale price is $72.50 and can be purchased online with a credit card at http://www.rainbarrelprogram.org/britfortworth. Rain barrel pick-up day is Saturday, April 18, from 9 a.m. to noon at BRIT's parking lot, 1700 University Dr.
Rain barrels collect rainwater from roof-tops by being placed under or attached to a home's rain gutter downspout. Rainwater is typically unused and sent down the storm drain. The cumulative effect of rain barrels implemented throughout a geographic area can have an impact on stormwater and water quality. Rainwater collected can be used for gardens, lawns, and wash cars and pets. Customers can purchase more than one rain barrel and link them together for increased capacity and water savings.
Helping Get the Word Out
Last year, BRIT and the City of Fort Worth partnered in a very successful summer rain barrel program in which 600 rain barrels were sold. This year, to increase awareness of the spring sale to area residents, the Fort Worth Water Department will communicate the sales details in the February and March issues of the City Times newsletter that is included with the Department's monthly water bill. Also, Fort Worth's Neighborhood Education Office will distribute news of the rain barrel sale to its 320 neighborhood associations via email and through its Nextdoor.com account that links to the area's neighborhood private social networks.
BRIT will also be exhibiting the Ivy rain barrel at its booth during the City of Fort Worth's Earth Party on March 28, at Magnolia Green Park, 1201 Lipscomb Street, Fort Worth, Texas 76104.
"The rain barrel sale is open to everyone, not just to Fort Worth residents," said Hilda Zuniga, Fort Worth Water Department. "And, you can purchase as many rain barrels as you would like."
To maximize awareness of the sale, BRIT is also reaching out to outlying cities like Benbrook and Watauga that are embracing conservation and allowing residents to do the same in an easy and environmental way.
"Benbrook supports BRIT's Rainwater Residential Program," says Cathy Morris, Public Involvement Director, City of Benbrook. "Rain barrels and recycling rain water are great ways to begin living greener."
Brandon Dupree, utility superintendent of the City of Watauga believes that using rain barrels can make a difference on water usage and encourages Watauga residents to participate this spring. "We'll be promoting the rain barrel sale by listing the purchase url on the City's web site and also in our city newsletter.
"As a conservation organization, BRIT is continually looking for ways to help homeowners take care of their natural resources through the use of native plants and rainwater harvesting." says Will McClatchey, BRIT's vice president of research. "And, BRIT's Residential Rainwater Program does just that by providing a quality, low-cost method of collecting and distributing natural rain water for homeowner's use."
The 50-gallon rain barrels are made in the USA from 100% recycled plastic and feature a child-proof locking lid; bug-proof screen; a ¾" ball valve that easily connects to a garden hose; and two built-in overflow ports, one of which can be used to link additional barrels. All parts included and ready to set up.
Orders must be placed online at http://www.rainbarrelprogram.org/britfortworth by 11 p.m. on Monday, April 13. Rain barrel pick-up date is set for Saturday, April 18 at the Botanical Research Institute of Texas, 1700 University Dr., Fort Worth, Texas 76107, from 9 a.m. to noon. All who order rain barrels may pick them up at that time. For further information or to order a rain barrel, go to http://www.rainbarrelprogram.org/britfortworth.