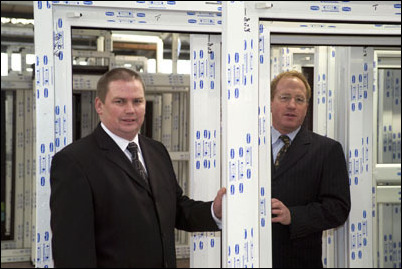 (PRWEB) October 25, 2006
In response to the recent accusation that Britain wastes more energy than any other country in Europe, Safestyle UK, Britain's leading independent replacement window and door manufacturer and retailer, is determined to "Do its Bit" to support this week's National Energy Saving campaign.
The National Energy Saving Trust is challenging households throughout the UK not just to conserve but to save at least 20% of their energy in this and each subsequent week.
The forward-thinking Bradford-based company, renowned for its celebrity-led and award-winning advertising campaigns, including the catch phrases "Bogof" (Buy One Get One Free) headed by top stars Cannon and Ball, has focussed its efforts on the production of a raft of new radio commercials and an information leaflet highlighting how households can conserve energy and save money on expensive heating bills through the installation of double glazing.
In support of the week, the company has also launched a series of special offers with an emphasis on a "Buy the Front and Get the Back Free" offer.
At a time when customers are becoming increasingly aware of the need to preserve the environment and also potential new government initiatives surrounding the introduction of energy efficiency ratings for the home, the Group's Chief Executive, John Ross, explained the reasoning behind their campaign:
"Britain is already regarded as the biggest waster of energy in Europe and conservation of energy has become increasingly important in all aspects of life. At Safestyle we feel it imperative that we are seen to be 'doing our bit' and the best way to achieve this is to get the message across to our customers and to our staff by increasing their knowledge of the environment and encouraging their support to preserve it."
He added: "Conservation and helping the environment should be high on everyone's agenda but what many forget is that it can also be financially beneficial as well. For instance by fitting double glazing the average householder with a four-bedroom detached house can save about £300 a year and a two-bedroom house at least £103 annually.
About Style group:
The Style Group PLC is the largest independent manufacturer, supplier and retailer of PVCu windows and doors in the United Kingdom. Since inception in 1992 the Group has continued to expand and now has 38 branches across the country from the South West to the North East serviced by a large in-house transport fleet. The Group incorporates three specialist subsidiaries:-
WINDOWSTYLE UK is the manufacturing arm and its state-of-the-art factory in Wombwell, Barnsley, South Yorkshire with the capability to produce up to 10,000 quality assured frames per week. It is also the area's largest single employer.
SAFESTYLE UK (http://www.safestyle-windows.co.uk) is the best known name in the Group. It is synonymous with quality and affordability and installs £2 million domestic window and door frames every week. It is renowned for its popular and memorable celebrity-fronted television and radio advertising campaigns featuring value-for money offers.
TRADESTYLE UK (http://www.tradestyle.biz) was established in 2002 and supplies exclusively to non-fabricating retailers and installers. It has its own manufacturing facility and has seen demand for its products at a genuine trade price soar way beyond expectations.
For further information please contact:
Ashley Metcalfe
CHS Ltd
+44-1924-256050
# # #