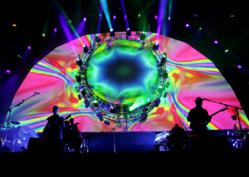 Durham, NC (PRWEB) February 11, 2013
Having performed to over a half a million fans around the world since it's first show in Liverpool, England in January 2011, The World's Greatest Pink Floyd Show, Brit Floyd, returns to the USA in February, March & April 2013 to present P-U-L-S-E 2013, The Pink Floyd Ultimate Light & Sound Experience, a stunning new three hour show featuring note-for-note performances of five full album sides, including 'Wish You Were Here', 'Animals', 'The Wall', 'The Division Bell', and, in celebration of the 40th anniversary, Pink Floyd's classic defining album, 'The Dark Side of The Moon'. Brit Floyd makes a stop at DPAC, Durham Performing Arts Center, on April 14, 2013.
Tickets go on sale Saturday, February 16 at 10am:

Online at DPACnc.com
DPAC Ticket Center: 919.680.2787, 123 Vivian Street, Durham, NC
Ticketmaster.com / Ticketmaster Charge by phone at 800.745.3000
Inspired by the record breaking 1994 'Division Bell' Tour and including the trademark Pink Floyd arch and circle light show, and brand new Floydian animation and projection, P-U-L-S-E 2013 will be Brit Floyd's biggest show yet.
Musically perfect and visually awesome, the new show will recreate the legendary, enigmatic Pink Floyd in its many forms, from '60s psychedelic pop band to '80s stadium-straddling behemoth and the reunited dream-come-true of Live 8.
Musical director, guitarist and vocalist Damian Darlington knows every detail, every nuance of every Floydian moment, and the band's execution of all Pink Floyd's greatest works will make each familiar track sound fresh and pristine.
Solo projects aside, this is as close to Pink Floyd as you will now ever get.
'Shining like crazy diamonds, Brit Floyd are flawless and astounding. A gem of a rock show.'
LA Times
'The Total and perfect illusion.'
Québec Journal
'Blindingly brilliant, jaw-droppingly authentic... at last Pink Floyd have the tribute show they deserve'.
Portsmouth News (from the Brit Floyd launch show in Portsmouth. The venue where Pink Floyd first performed The Dark Side of the Moon)
'Mesmerising, absolutely mesmerising. The most exciting tribute show ever!'
Ticketmaster
If you wish to find out more about Brit Floyd please visit their website, Facebook or You Tube Channel links below:
http://www.britfloyd.com
http://www.facebook.com/britfloydshow
http://www.youtube.com/britfloydshow
Follow Brit Floyd on Twitter http://www.twitter.com/britfloyd