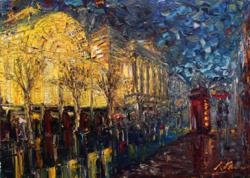 Somehow it feels more comfortable to browse round a fair than to enter a quiet private gallery
London, UK (PRWEB) July 29, 2011
Art fairs differ to gallery exhibitions in a couple of important ways; they don't take a commission on sales, are for a short period and generally get a wide range of art buyers through the door. "Somehow it feels more comfortable to browse round a fair than to enter a quiet private gallery", mentions Marcus while we discuss why he accepted the invitation to apply for this show. It's likely more potential buyers will attend, especially for those who may feel less comfortanble entering a quiet private gallery.Those who follow the British Artists career know he has generally avoided private galleries. However, following a very successful two months at the Jardin Bistro in Wivenhoe, he certainly seems more positive about pursuing the art fair route. "My paintings really come to life when viewed and I realise the limitations of a purely web based approach. While I'm very satisfied with web based gallery sales, art fairs are attractive".
As he explains, the Wivenhoe 1 man exhibition produced good sales but as importantly, stimulated website sales of original oil paintings and limited edition prints as well as a few commissions. In fact the video on his home page is of one of those commissions, Mgarr Harbour in Malta. "It's tricky to paint a commission; to get inside the commissioners head and make sure they are getting what they want. Although the painting is sold before it's painted, this can make it more stressful".
It is with this success behind him that he clearly hopes to build on. However, whereas the restaurant had no artist entry fee, the art fair does but Krackowizer tells us that this is well accounted for due to the location. The Parallax art fair is in the Royal Opera Arcade, which is off Pall Mall. If you're wondering around Piccadilly, Trafalgar Square or indeed Buckingham Palace between the 21st & 23rd of October, you'll be a stone's throw away. There is no entry fee for visitors. "The entry fee is low enough to make the event exciting for me", says Krackowizer after explaining how excited he is to be accepted. He was invited to apply and then subsequently accepted and now must pick a suitable set of work to exhibit in the 5 meters of wall space he has.
With this being the only fair he has applied for this year, Marcus says if you want to see his work in person and have a chat over a coffee, this is the place to meet up. "I expect there'll be a well selected range of contemporary paintings and sculptures so it promises to be an interesting time for all that attend.
Marcus Krackowizer is a London based contemporary impressionist oil painter with a penchant for evocative and vibrant cityscapes. His use of textured oil paints and strong colours gives his artwork a timeless and reasonably unique emotional flare. As a self taught artist and background in Aeronautical engineering, this British artist brings an interesting mixture of experiences in to his work. Find him on line at http://www.modern-impressionist.com.
###