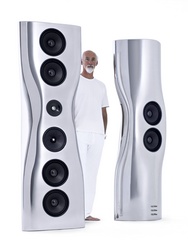 We wanted to push our technology to new limits
NEW YORK (PRWEB) October 18, 2007
Esquire magazine's newest project, dubbed the "Ultimate Bachelor Pad," is a triplex penthouse apartment in the heart of New York City's up and coming Central Park North luxury district. Hip-Hop artist and Def Jam Recordings CEO Jay-Z filmed his latest video, "Blue Magic," at the apartment, where a stylish pair of MUON loudspeakers was featured.
MUON is the direct result of the marriage between KEF's world-class engineering team and Ross Lovegrove, one of the leading industrial designers of our time. A pair of these astonishing beauties stands nearly 7 feet tall. Only 100 pairs will be available in ten select cities world-wide and will sell for $140,000 per pair.
Rarely has such a sublime union of form, function and manufacturing integrity been realized in the commercial world. "We wanted to push our technology to new limits," said Dr. Andrew Watson, KEF's senior acoustic engineer. "The result is unparalleled sound quality and an exquisite example of British engineering and design at its very best."
MUON is made from super-formed aluminum, which uses a similar molding process to vacuum forming. Malleable sheets of heated aluminum were used to achieve otherwise impossible shapes. The eventual form of the loudspeaker was the result of a careful convergence between Ross Lovegrove's design aesthetics and the physics of sound. The process by which it was conceived meant that, in effect, Ross Lovegrove was sculpting the sound by 'skinning' the technology with purposeful form.
MUON's four-way speaker system mounted into the front of the structure with its powerful bass drivers is one of the elements that make it so superior. But it is also the upper mid-range and treble where some of MUON's key technology lies in the form of the Uni-Q(R) drive unit array, remarkable in its construction and delivering a seamless sonic picture throughout the listening environment.
KEF has also used its Acoustic Compliance Enhancement (ACE(TM)) technology, which effectively doubles the available volume through adsorption of air molecules by activated carbon. The two additional bass drivers mounted on the back of MUON help to produce a remarkably clean and open sound by dealing with room effects. Finally, the 6mm thick, heavily damped aluminum shell provides a totally rigid structure that minimizes any sound-distorting vibrations.
As a truly contemporary art form appropriate for 21st century living, MUON is unequivocally at the apex of speaker design and technology. Simply stated, MUON is the best available in luxury.
For additional information about KEF's MUON loudspeakers, visit http://www.kef.com/products/muon/.