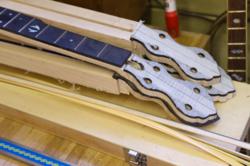 Up until the 2nd World War there were numerous banjo manufacturers in England, but now there are none left except for a few individuals making custom banjos for private commissions
(PRWEB UK) 18 May 2012
UK banjo retailer and manufacturer Banjos Direct, has released new production photographs of its Islander OB-01 open back 5-string banjo.
The Islander OB-01 is believed to be the only production banjo currently being made in Britain. Described as being "as American as baseball and as British as a Morris Minor", the Islander OB-01 features an ash block-rim, maple neck with carbon fibre reinforcement, and a traditional dowel stick instead of the more conventional steel coordinator rod.
Founder and CEO of Banjos Direct, Simon Middleton said: "The photographs capture the beauty of small scale professional manufacturing in a British workshop. As the first Islander banjos get closer to completion we will release more pictures so that banjo enthusiasts can see exactly the care that we are taking over these superb instruments."
Middleton, explained why the company had begun to manufacture banjos in the UK.
"Up until the 2nd World War there were numerous banjo manufacturers in England, but now there are none left except for a few individuals making custom banjos for private commissions," said Middleton.
"We launched Banjos Direct last year as a specialist retailer, and we have quickly become a UK market leader. But we have always had the ambition to re-vitalise British banjo manufacturing. With the Islander OB-01 we are creating superb quality, hand-crafted, genuinely 'Made in England' instruments in small production batches. This enables us to provide exceptional, aspirational, instruments at much more achievable prices than those made to private commission."
The Islander OB-01 is the first model in a completely new range of hand-crafted British banjos from the company. Later models will include resonator-back bluegrass-style banjos.
The Islander OB-01 is available for pre-order now, with the first instruments available in August. It will retail at £1495.00 including luxury hard case.
COMPANY INFORMATION
Banjos Direct is the UK's fastest-growing specialist banjo retailer and manufacturer, leading the renaissance of interest in the banjo amongst players of every age and background. The Norwich-based company is the UK's leading stockist of USA banjo brands GoldTone and Nechville, and also stocks instruments by Barnes & Mullins, Pilgrim and Tanglewood. It has recently announced its move into banjo manufacturing with the launch of the all-British made Islander OB-01.
Founder and CEO of Banjos Direct, Simon Middleton, is also frontman of English-Americana band The Proposition, whose debut album King Snake, Devil Shake was released in March this year. Middleton is the author of several books on branding and marketing, including 'Build A Brand In 30 Days' and the new guide to personal branding 'Brand New You'.
Find Banjos Direct at http://www.banjosdirect.co.uk.
Email: info(at)banjosdirect(dot)co(dot)uk
Phone: +44 (0) 1603 305800