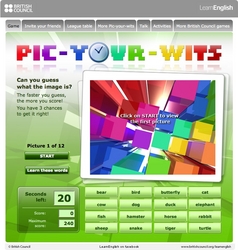 Pic-Your-Wits is a fun English vocabulary game which shows you a pixelated picture and you then have 20 seconds to guess before all is revealed. The faster you guess, the more you score.
(PRWEB) March 2, 2011
Teachers and learners of English can now access a new resource to help build vocabulary and improve language skills thanks to the British Council's latest Facebook app. Pic-Your-Wits is an interactive English vocabulary game with pixelated pictures for learners to guess the words and beat the clock. It is available on Facebook today for free.
Ann Foreman, Social Media Consultant at the British Council, said: "Each month Pic-Your-Wits responds to learners' requests and publishes a new set of vocabulary to challenge them. Pic-Your-Wits also helps learners to practise what they've learnt by pointing them in the direction of more activities on the LearnEnglish website – all of which relate to the current picture set. The first picture set is of animals, so this month learners have the opportunity to read and listen to stories, poems and magazine articles on the theme of animals. Next month the game will expand with another picture set with more suggestions for activities to help learners build their language skills. In this way, an apparently simple vocabulary game will gradually be transformed into a really comprehensive learning tool."
Pic-Your-Wits is the latest in a number of free English language learning apps the British Council has developed for Facebook. For more information visit the British Council's site for English learners.
Notes to editors

Screenshots from Pic-Your-Wits are available via the LearnEnglish Flickr stream.
For more information contact ulla(dot)hjerting(at)britishcouncil(dot)org or telephone +44 (0)20 7389 4741.
LearnEnglish is the British Council's website for adult learners of English. More than 1.5 million learners and teachers from over 100 different countries visit the British Council's English resources websites every month. Each site has interactive features such as user comments, discussion forums, content ratings and polls and media-rich materials including podcasts, flash games and video.
The British Council is the UK's international organisation for educational opportunities and cultural relations. We work in over 100 countries worldwide to build engagement and trust for the UK through the exchange of knowledge and ideas between people. We work in the arts, education, English, science, sport and governance and last year we engaged face to face with 18.4 million people and reached 652 million. We are a non-political organisation which operates at arm's length from government. Our total turnover in 2009/10 was £705 million, of which our grant-in-aid from the British government was £211 million. For every £1 of government grant we receive, we earn £2.50 from other sources. For more information, please visit: http://www.britishcouncil.org.
###