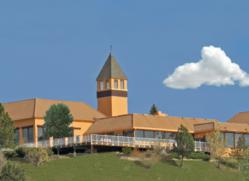 ...amazing views of the Front Range, spectacular sunsets, and best views of the city lights of Denver.
Thornton, CO (PRWEB) November 29, 2012
Crystal Rose Announces Brittany Hill Expansion
Brittany Hill is reopening as a Crystal Rose event and wedding venue, and will be open for business in January 2013.
This facility can handle small events or very large events up to 900 people. Brittany Hill will offer all-inclusive weddings, receptions, rehearsal dinners, corporate parties, anniversaries, birthday parties, proms, bar/bat mitzvahs, Quinceañeras and sports banquets.
Jay Byerly, Crystal Rose founder, observed that "Brittany Hill gives the Crystal Rose the capability to host any size event. It's very elegant and offers spectacular views of the Denver skyline and the entire Front Range Mountains."
"Before 2006, Brittany Hill routinely served 600 to 800 Sunday Brunches a day; we intend to resume this tradition soon," Byerly stated. "There isn't a better venue or view in the State – We believe our experience in the hospitality industry will enable us to restore the location to its' former popularity."
About Brittany Hill: With over 17,000 square feet on top of 4 landscaped acres, Brittany Hill is one of the largest private event venues in Colorado. Built in 1983, Brittany Hill was operated as a restaurant and event facility until 2006.
About Crystal Rose: The Crystal Rose, founded in 1987, has hosted over 15,000 private events and weddings and has catered to over 2 million guests in Colorado. Brittany Hill joins five other event venues currently operated by The Crystal Rose in Colorado.
For More Information and Photos: Visit http://www.crystal-rose.com/brittany-hill or http://www.crystal-rose.com
The Crystal Rose at Brittany Hill
9350 Grant Street
Thornton, CO 80229
Contact: Jay Byerly
Office: 303.526.7530
http://www.crystal-rose.com/brittany-hill