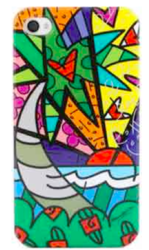 Miami, FL (PRWEB) December 09, 2011
Pop Art Miami, Britto's leading online retailer, will be selling the Britto iPhone cover just in time for the Holidays. The iPhone covers will be sold on http://www.popartmiami.com and the Pop Art Miami cart in Dolphin Mall, Miami FL. These iPhone covers are made specifically for the new iPhone 4S and come in four popular designs. The four designs are: two Britto 'Garden' designs one with a boy and one with a girl, a 'Racecar' design, and a 'Tropical Sunset' design.
These iPhone covers are vibrant and will definitely call attention. The 'Garden' image is a popular image that has been printed on umbrellas and mugs and is a definite favorite. It has images of butterflies, cats, flowers, birds, and dogs. These images have become well known and are loved by Britto fans. Britto has also introduced two other images as part of this iPhone cover collection. The 'Racecar' cover has an image of a Grand Prix racecar zooming down the track, a great iPhone cover for a car and Britto aficionado. The 'Tropical Sunset' cover is similar to an image Britto chose for one of his Heys luggage sets. This iPhone cover will put a smile on any face with its beautiful landscape image and bright colors. These four Britto iPhone covers will be a popular and great gift this Holiday Season.
Pop Art Miami has the largest selection of Britto product online and with their excellent and personal customer service they will never disappoint. Look to Pop Art Miami for the latest Britto product and for your 2011 Holiday shopping. Surprise someone special with a Britto iPhone cover this Holiday Season!
For more information on Britto and to buy a Britto iPhone cover, visit: http://www.popartmiami.com
About Pop Art Miami - Pop Art Miami offers a wide array of products from renowned artists Romero Britto, Carlos A. Navarro and Tim Rogerson. Affordable prices, $9.95 shipping on your entire order within the US and competitive rates on international orders set Pop Art Miami ahead of the competition. Our online store is open 24 hours per day and seven days a week. Detailed pictures and descriptions accompany every product on our website, along with clear pricing and expert customer service. Call us today at 305-599-9677 with any questions or feel free to visit us at our store in the Dolphin Mall in Miami, Florida. Pop Art Miami is the online leader in Pop Art!
###