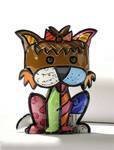 Miami, FL (PRWEB) October 31, 2011
Pop Art Miami, Britto's leading online retailer is now selling two new and fashionable collections by Romero Britto. Since 2008 when Britto first launched his gift collection he has become widely known for his house décor and collectible figurines. Being a world-renowned pop artist Britto's originals are very costly and not something everyone can afford. With the launch of his gift collection in 2008 Britto was able to offer everyone an affordable and beautiful collection of house décor and collectibles.
In October of 2011, Britto launched a collection of poly-resin mini-figurines. Each piece from this collection has a name and story. The Britto mini-figurines represent different animals, a boy, a girl, and an angel. The collection includes twelve figurines: an Elephant, two Dogs, two Cats, a Pig, a Frog, a Teddy Bear, a Monkey, a Boy, a Girl, and an Angel. Precious, the Yorkshire Terrier, reminds us of the things that matter most, never letting us forget what is truly precious in our lives. A wonderful friend that is loyal, tried and true.
Each piece from this collection retails for $20.00. With this price point these figurines are both affordable and decorative. Any Britto collector would love to add these to their collection especially with the Holiday season quickly approaching.
Pop Art Miami has the largest selection of Britto product online and with their excellent and personal customer service they will never disappoint. Look to Pop Art Miami for the latest Britto product and for your 2011 Holiday shopping.
For more information on Britto and to see this new collection visit: http://www.popartmiami.com
###