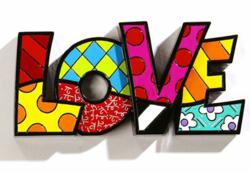 Miami, FL (PRWEB) November 22, 2011
Pop Art Miami, Britto's leading online retailer will be offering 10% of purchases made from Tuesday, November 22, 2011 thru Sunday, November 27, 2011. This discount will be the Black Friday deal on Pop Art Miami's website. Pop Art Miami has the latest Britto product. These new items will make a great gift for any Britto collector.
Since 2008 when Britto first launched his gift collection he has become widely known for his house décor and collectible figurines. Being a world-renowned pop artist Britto's originals are very costly and not something everyone can afford. With the launch of his gift collection in 2008 Britto was able to offer everyone an affordable and beautiful collection of house décor and collectibles. Pop Art Miami has since 2009 been the leading online retailer for Britto and offered the best prices and deals online for all Pop Art product.
Pop Art Miami has the largest selection of Britto product online and with their excellent and personal customer service they will never disappoint. Look to Pop Art Miami for the latest Britto product and for your 2011 Holiday shopping and take advantage of this 10% off discount.
For more information on Britto and to shop the site with 10% off, visit: http://www.popartmiami.com
About Pop Art Miami - Pop Art Miami offers a wide array of products from renowned artists Romero Britto, Carlos A. Navarro and Tim Rogerson. Affordable prices, $9.95 shipping on your entire order within the US and competitive rates on international orders set Pop Art Miami ahead of the competition. Our online store is open 24 hours per day and seven days a week. Detailed pictures and descriptions accompany every product on our website, along with clear pricing and expert customer service. Call us today at 305-599-9677 with any questions or feel free to visit us at our store in the Dolphin Mall in Miami, Florida. Pop Art Miami is the online leader in Pop Art!
###