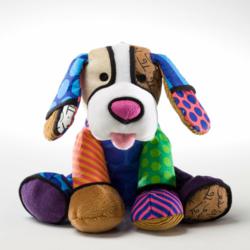 Miami, FL (PRWEB) October 14, 2011
Pop Art Miami, Britto's leading online retailer is now selling two new and fashionable collections by Romero Britto. Since 2008 when Britto first launched his gift collection he has become widely known for his house décor and collectible figurines. Being a world-renowned pop artist Britto's originals are very costly and not something everyone can afford. With the launch of his gift collection in 2008 Britto was able to offer everyone an affordable and beautiful collection of house décor and collectibles.
In October of 2011, Britto launched a collection of stuffed animals and plush pillows. The stuffed animals are cleverly named after other artists and notable figures. There is Leonardo the lion named after Renaissance Master Leonardo da Vinci. The monkey is named Matisse like French painter Henri Matisse. There is a horse named Frida, after Mexican painter, Frida Kahlo. The dog is named Pablo after cubist painter, Pablo Picasso. The panda is named Jackson like Jackson Pollock the action painter. The elephant is named Jasper after the contemporary artist Jasper Johns. The final two stuffed animals are named after two notable female figures. The cat is named Coco after French fashion designer, Coco Chanel. The bear is named Tallulah after American stage and screen actress, Tallulah Bankhead.
Britto has also launched a line of plush in the shapes of a butterfly, peace sign, and love. These plush pillows would be great as either a pillow to adorn a bed or simply something comfy to cuddle up with.
Each piece in these two new collections retails for $35.00 and under. With this price point these stuffed animals and plush pillows are both affordable and a great gift. Any Britto collector would love to add these to their collection especially with the Holiday season quickly approaching.
Pop Art Miami has the largest selection of Britto product online and with their excellent and personal customer service they will never disappoint. Look to Pop Art Miami for the latest Britto product and for your 2011 Holiday shopping.
For more information on Britto and to see these two new collections visit: http://www.popartmiami.com
###