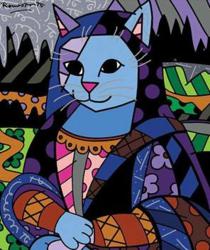 Miami, FL (PRWEB) October 13, 2011
Renaissance Master, Leonardo Da Vinci changed history and art when he painted the Mona Lisa. This image has been the object of intrigue and mystery for centuries. With her enigmatic smile and unknown identity she is one of the most talked about women in history. Just why is the Mona Lisa so special? For starters, her identity is unknown, she was stolen in the 20th century and widely duplicated, and lastly her smile. Many questions arise when discussing the Mona Lisa: Who is she? Is she smiling? Why was she painted? What is her importance? Experts have speculated for the Mona Lisa to be one of the following: Lisa del Giocondo, a female likeness of Leonardo, or Leonardo's mother. Her duplications have been printed on household items, trinkets, and souvenirs. Artists have also painted their renditions of Mona Lisa and have amounted to her timelessness and popularity.
Pop artist such as Andy Warhol have famously duplicated this image. Britto has also painted a rendition of the Mona Lisa and due to his affection for cats she is called 'Mona Cat'. Britto's 'Mona Cat' is a painting of a cat dressed in the same Renaissance attire as the Mona Lisa and in the same position. Britto also kept a color scheme similar to the Mona Lisa by using dark colors such as deep purple, dark green, and navy blue. Britto also limited his color palette to variations of these three shades in order to emulate the simplicity of the Mona Lisa. His 'Mona Cat' also seems to have an enigmatic expression.
Pop Art Miami, the largest online retailer for Romero Britto is now selling 'Mona Cat'. This print comes in an authentic Britto tube and packaging. 'Mona Cat' is priced at $55.00. It will make a great gift for and art collector, whether they like Classic art or Pop Art they will find this piece a special and valuable addition to their collection.
For more information on the Britto's 'Mona Cat' visit: http://www.popartmiami.com
###