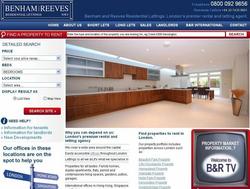 London, UK (PRWEB) June 17, 2009
A first for the website is its new TV station, B & R TV, which contains easy-to-follow information on the legalities of letting a property, from insurance and deposits to furnishings. The website also has an advice section for landlords and 'Ask the Expert', a new facility which enables visitors to put lettings-related queries to the company's property management experts.
The new media room at BR Lets highlights all the latest lettings industry news and also provides a concise round-up of more general economic trends that can affect the buy-to-let market.
In the first few days since the launch, the website has attracted hundreds of first-time visitors as Anita Mehra, Managing Director of Benham and Reeves Residential Lettings reports: "We've used our expertise, gained over fifty years as a residential lettings specialist, to create a website which is a true one-stop resource, full of information that landlords and tenants will find invaluable. We're delighted to see so many new visitors to the site, proving that the combination of up-to-the-minute news and well-presented property details seems to be a winning formula."
People are saying the Sales Market is showing signs of recovery or at least bottoming out strengthened by Halifax reporting that sales prices rose by 2.6% in May 09. This increase followed three successive monthly declines recorded by them of between 1.8% and 2.3%. However, Marc von Grundherr, Lettings Director of Benham & Reeves Residential Lettings is very sceptical and warns against too much optimism. von Grundherr comments that : "You should never give too much importance to any single month's figures. In the past, even during a falling market, prices have not always moved in the same direction every month. In 1991 and 1992, if unlike most people you can remember back then, sales prices fell by over 11% across the UK, but during this period, there were actually 5 months where prices increased! The lettings market has also seen rental;s decline but unlike the sales market where demand is still very subdued, the demand for lettings properties across all 8 of Benham & Reeves letting offices has continued to be strong"
To mark the launch of the new website, Benham and Reeves Lettings is making two special offers. For new landlords, they'll be waiving their administration fee on new instructions taken before Friday 31st July 2009 (for new properties that they haven't previously let). And for tenants, they'll be waiving their administration fee on all new tenancy agreements signed during July 2009. Quote reference EM1 when you register with them.
About Benham and Reeves
With eight offices in the prime residential areas of London (and overseas offices in Singapore, Hong Kong and Dubai), Benham and Reeves Residential Lettings is recognised as one of the largest specialist London lettings-only agencies. They are also one of the only lettings agents to offer an interior design, refurbishment and furnishing service for investment properties through their sister company, In:Style Direct
###