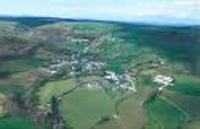 Broadband services are vital to ensure our country can develop the knowledge economy, improving the ability of businesses and individuals to network and innovate
(Vocus) July 17, 2010
The Royal Welsh Show has taken place annually for the last 19 years and is visited by over 220,000 people. As well as its principal function of showcasing the cream of Welsh livestock and the high quality food and drink produced in Wales, it encompasses the wider spectrum of farming and rural life and successfully appeals to both town and country dwellers. The show offers a great range of attractions, both educational and entertaining, including over 8,000 animals on show, a new food hall, over 1,000 trade stands and an extensive programme of events ranging from The Golden Shears World Shearing Championships and Sheep Dog Trials to Hot Air Ballooning and displays by various military teams.
A lot of visitors to the show will be coming from rural areas and it is these potential customers that Avonline's best selling Tooway Satellite Broadband is aimed at. Avonline has been passionately committed to providing customers in rural areas where there is either unreliable or slow broadband service or worse still, no service at all, a fast broadband connection today, wherever they live. With a market leading 3.6Mbps download and 384Kbps upload service covering 100% of the UK from just £1 per day, Avonline has been attracting increasing numbers of customers to get their broadband reliably via satellite. Over 1 million, mainly rural customers, already get their broadband via satellite.
Recently The Welsh Assembly has committed millions of pounds to a new scheme aimed at allowing everyone in a broadband not spot across Wales to receive a decent standard of broadband. Financial support will be available up to a maximum of £1,000 per premise in the form of a grant. Once approved, people then make their own arrangements with the provider. The scheme will be available to people in areas where a basic broadband connection of at least 512 kilobits a second is unavailable. Avonline has welcomed this initiative and will be one of the suppliers who can provide broadband services through this scheme.
Deputy First Minister Ieuan Wyn Jones said: "Broadband services are vital to ensure our country can develop the knowledge economy, improving the ability of businesses and individuals to network and innovate"
Craig Roberts, Avonline's Broadband Services Manager, said, "Were looking forward to visiting The Royal Welsh Show and having the opportunity to show the Welsh community how easy it is for them to get fast reliable broadband services through satellite."
He continued, "At Avonline, we have campaigned for wider access to broadband for rural communities for many years. We already have a strong customer base across Wales who rely on our broadband service".
Recently Avonline helped Beverley McCartney from Salem, near Llandeilo, Carmarthenshire get broadband. Having just been quoted £150,000 by BT to provide her with a broadband service, Avonline installed her satellite solution the same week and she will be joining Avonline on their stand to tell people about her experience firsthand and about how Avonline's Tooway broadband service have changed her life.
Avonline's broadband installation consists of a satellite dish plus a modem. In addition, the Tooway service has the ability to deliver a money saving telephone service (VoIP) and now has the added value option of receiving Freesat High Definition digital television services from the same satellite dish
About Avonline Plc
Avonline plc is one of the UK's leading Installation and Business Services companies. Established in 1981, with around 500 engineers providing broadband and digital services to customers around Europe. Avonline has a specialist division deploying broadband satellite solutions to provide a high speed networks supporting VPN, VoIP, video and broadband data. Avonline supports the Government's Digital Inclusion philosophy and the Race Online 2012 initiative of which they are a partner.
###