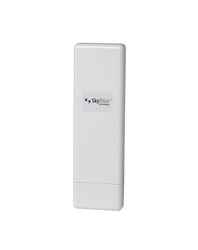 The SkyConnector Mini is an important product for the fixed broadband wireless market
Santa Clara, CA (PRWEB) September 30, 2008
SkyPilot Networks, a leading provider of carrier-class broadband wireless equipment, today announced the SkyConnector Mini, a new generation of customer premise equipment (CPE) for unlicensed 5 GHz broadband wireless networks that costs 50% less than the current generation of SkyConnector while maintaining the same functionality. The SkyConnector Mini is designed to minimize per-subscriber costs for wireless ISPs (WISPs) while providing features comparable to competitive products that cost 5 times as much.
A summary of the SkyConnector Mini is as follows:

Low Cost - a per-unit MSRP as low as US$199
Long Range - wireless connectivity up to 7.5 miles/12 km from the base station
High Capacity - up to 13 Mbps of throughput
Non-Line of Sight - industrial-strength OFDM for connectivity in NLOS environments
Synchronous QoS - deterministic latency and jitter guarantees for applications like VoIP
Encrypted Security - hardware-based AES encryption
Frequency Flexibility - software-configurable access to entire spectrum from 5.250-6.075 GHz
"Zero-Touch" Configuration - auto-discovery and auto-provisioning for easy deployment
Traffic Management - Layer 2 networking with per-subscriber rate limiting and virtual LANs
"The SkyConnector Mini is an important product for the fixed broadband wireless market," said Brian Jenkins, vice president of marketing at SkyPilot. "With the SkyConnector Mini, WISPs can now compete with DSL service providers on both throughput and price. The SkyConnector Mini's high capacity and low cost also leverages our unique ability to extend coverage by integrating backhaul and relay in every one of our SkyGateway and SkyExtender point-to-multipoint base stations. The resulting economics - miles and miles of low-cost broadband wireless coverage from a single tower - are unparalleled."
The SkyConnector Mini is an outdoor CPE designed to install on a structure like a home or business to provide broadband Internet and VoIP services. It integrates a high-power radio (24 dBm) with a high-gain antenna (14 dBi) with enough frequency flexibility to cover the entire spectrum from 5.250-6.075 GHz. Power and local Ethernet connectivity comes from a Power-over-Ethernet (PoE) injector and several mounting options are available to provide flexible deployment options.
The SkyConnector Mini is available from SkyPilot's community of distributors and resellers. The manufacturer's suggested retail price (MSRP) is US$299 per unit for individual units, US$249 per unit when purchased in a bundle of 20 units, and US$199 per unit when purchased in a bundle of 100 units.
For more information on the SkyConnector Mini, please visit the SkyConnector Mini website.
About SkyPilot Networks
SkyPilot Networks is a leading provider of carrier-class broadband wireless equipment that enables service providers, municipalities, and public safety agencies to rapidly deploy cost-effective network services, including last-mile Internet access, voice over IP, Wi-Fi hotspots, video surveillance, and other wireless applications. The SkyPilot solution utilizes a patented multi-hop point-to-multipoint architecture that synchronizes high-gain directional antennas to extend reach, mitigate interference, and maximize spectral efficiency. The result is a highly scalable, reliable, and deterministic broadband wireless network that simplifies design, increases deployment flexibility, and dramatically reduces equipment and operating costs. SkyPilot has proven scalability and reliability with over 40,000 units shipped to customers in over 50 countries. SkyPilot is a privately held company based in Santa Clara, California. For more information on SkyPilot and its solutions, contact PR at pr@skypilot.com or visit SkyPilot's website.
###