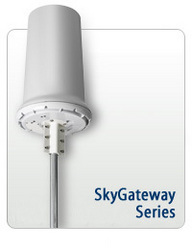 RCM has a proven ability to expand our presence in Mexico and their focus in surveillance aligns with one of our key vertical markets
Santa Clara, CA (PRWEB) February 2, 2009
SkyPilot Networks, a leading provider of carrier-class broadband wireless networks, today announced that it has signed a distribution agreement with Radios Convencionales de Mexico (RCM), a wireless distributor based in Mexico. RCM will market, sell, and support SkyPilot's line of broadband wireless products throughout Mexico.
"SkyPilot has provided service providers around the world with cost-effective, long-range, and high-capacity wireless equipment," said Flavio Coutiño, Operation's Director of RCM. "Our channel partners are always looking for the best wireless products available, and SkyPilot's solutions provide our partners with enough uniqueness and flexibility to effectively enter new broadband wireless markets."
SkyPilot's equipment not only enables wireless Internet service providers to deploy broadband Internet access and VoIP to subscribers, but also provides the wireless backhaul to enable outdoor Wi-Fi access as well as video surveillance for municipal networks.
SkyPilot's unique capabilities come from an innovative approach to combining point-to-point backhaul, mesh, and a point-to-multipoint base station into a single solution. The SkyGateway and SkyExtender are base stations that provide point-to-multipoint connectivity to low-cost SkyConnector customer premise equipment (CPE) in the 5 GHz spectrum. These base stations also integrate a synchronous multi-hop wireless backhaul that greatly extends coverage range and increases spectral capacity. In addition, these products can be integrated with long-range Wi-Fi access points at 2.4 GHz and 4.9 GHz for mobile public safety.
"RCM has a proven ability to expand our presence in Mexico and their focus in surveillance aligns with one of our key vertical markets," said Paul Moubarak, Technical Sales Manager for Mexico, Central America, and Caribbean at SkyPilot. "The combination of wireless technology with advanced surveillance solutions represents considerable value to SkyPilot and we are enthusiastic about working together with our new partner."
About RCM:
RCM is a Telecomunications Distributor, of the best brands, RF, Broadband and accessories products. To know more about RCM and its products and services, please visit their website.
About SkyPilot Networks:
SkyPilot Networks is a leading provider of carrier-class broadband wireless equipment that enables service providers, municipalities, and public safety agencies to rapidly deploy cost-effective network services, including last-mile Internet access, voice over IP, Wi-Fi hotspots, video surveillance, and other wireless applications. The SkyPilot solution utilizes a patented multi-hop point-to-multipoint architecture that synchronizes high-gain directional antennas to extend reach, mitigate interference, and maximize spectral efficiency. The result is a highly scalable, reliable, and deterministic broadband wireless network that simplifies design, increases deployment flexibility, and dramatically reduces equipment and operating costs. SkyPilot has proven scalability and reliability with over 40,000 units shipped to customers in over 50 countries. SkyPilot is a privately held company based in Santa Clara, California. For more information on SkyPilot and its solutions, contact pr (at) skypilot (dot) com or visit the website.
###