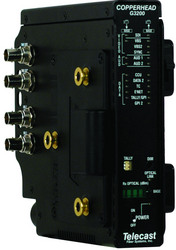 Worcester, MA (Vocus) October 19, 2010

(Vocus) October 19, 2010 -- The CopperHead™ 3000 Series is the newest addition to Telecast Fiber Systems' patented CopperHead family of camera-mountable fiber optic camera transceivers. The CopperHead 3000 Series is designed to offer a cost-effective solution for a variety of applications and users, and it provides a single fiber optic link between any professional camera or camcorder and the broadcaster's truck, control room, or "video village" position. Representing the best of Telecast's award-winning fiber optic technologies, the CopperHead 3000 handles all vital camera signals and can be configured for specific applications such as ENG or multicamera use.
Rattler™ 3G Miniature Transmitter/Receiver Modules
Telecast Fiber System's new patent-pending Rattler™ 3G family of 3Gbps HD/SDI transmitter and receiver modules will be on display at Broadcast India 2010. Only 3 inches long, the Rattler 3G devices offer a highly flexible I/O solution for the transport of HD/SDI video signals via fiber optic or coaxial cables through the broadcast industry's most widely used fiber optic transmitters and receivers. Based on the new TeleCube™ MMI technology, the miniature serial digital transmission modules can be configured using red transmitter cubes and blue receiver cubes, which act as either fiber (ST) or 75 ohm coaxial (BNC) inputs or outputs. By plugging different configurations of cubes into a central green "pit" connector, broadcasters can create a wide range of conversion devices. For example, broadcasters can quickly configure a fiber transmitter or receiver, an inline coaxial equalizer, a fiber-to-fiber repeater, an optical wavelength shifter, a fiber optic mode converter, or a CWDM transport link. Because TeleCubes are available in several optical power levels and 16 CWDM wavelengths, the possible combinations are numerous. The Rattler 3G gives broadcasters the power to create exactly what they need and adjust it easily when their needs change.
Python™ II SD/HD-SDI Media Conversion System
Specifically designed to meet the needs of HD television production, the Python™ II series of bi-directional transmitters and receivers can accommodate up to 16 SDI signals — ranging from 19.4 Mbps up to 1.5 Gbps of uncompressed HD/SDI. The Python II can be configured to handle either eight or 16 channels one way, or eight channels of video in both directions. The Python II is completely interoperable with other Telecast video SDI products such as the Viper and Mamba.
Adder™ II
Since their introduction 10 years ago, Telecast's Adder™ audio multiplexing systems have become the world's most widely used announce booth and point-to-point audio snakes. The Adder II is Telecast's most advanced modular audio, intercom, and data multiplexing system, with a modular and scalable design, improved user features, and even better audio and optical performance. The Adder II is an audio workhorse, with up to 64 channels of bi-directional audio, four intercom module slots providing up to eight intercoms, expanded data and GPI capabilities, and industry-leading latency specs.
Company Overview
Telecast Fiber Systems, Inc. is the company known for its portable and fixed fiber optic systems for television broadcast production. Telecast's video, audio, and communications systems are used worldwide by TV networks, teleproduction companies, sports venues, and various private, educational, and government and military organizations to extend range, simplify cabling, and reduce labor costs and setup time. Telecast systems have helped usher in the age of HD television production, and the company now is active in the development of 3-D HD TV production. Telecast Fiber Systems is a subsidiary of Belden (NYSE: BDC), a leader in comprehensive signal transmission solutions for fiber, cable, wireless signal, and industrial networking applications.
More information about Telecast Fiber Systems can be found at http://www.telecast-fiber.com.
###