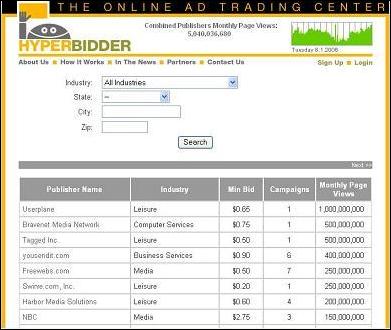 Broadcast TV Ad Spot Only
Porterville, CA (PRWEB) August 3, 2006
Hyperbidder, Inc. announced today that it is opening a new division to sell Broadcast TV Advertising. The newly created TV Broadcast division will add another revenue stream to Hyperbidder. Hyperbidder has been successfully selling Internet Advertising with its proprietary auction system.
The company's success, momentum, and the fast growth can be attributed to the transparency of its ad serving technology, and the better eCPMs it pays to its partner web sites compared to other ad networks. Company plans to achieve a similar success with its new Broadcast TV Advertising division. The Hyperbidder Broadcast TV Ads division will sell Broadcast TV Ads in two different packages. While one package will include "Broadcast TV Ad Spot Only", the other package will include "Broadcast TV and Internet Ads Combo" selling TV spots bundled with the online offerings of TV stations' web sites.
About Hyperbidder:
Hyperbidder empowers the advertisers by letting them determine how much they should pay for an ad space on a specific web site. Ad sellers post their available ad space on Hyperbidder where advertisers find and place a bid to receive placement for their ad media, usually a banner or a button advertisement. Hyperbidder differs when it comes to all known auction sites, such as Ebay, as with Hyperbidder, not just the highest bidder, but also all bidders win when it comes to advertising.
Advertisers bid on ad campaigns to receive the higher percentages on the ad rotation to a specific ad campaign. The higher the bid amount, the higher percentage the advertiser's ad is displayed on the publisher's (ad seller's) web site. This way, advertisers determine a specific web site's real ad value. With Hyperbidder, all available ad space on a given site can be posted for bidding. http://www.hyperbidder.com.
###