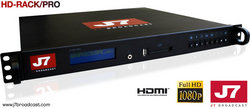 Morgan Hill, CA (PRWEB) April 22, 2009
J7Broadcast Inc. has announced for NAB 2009, the HD-RACK/PRO, a rackmounted digital video and audio media device, designed for the controlled play-out of stored 1080P/60 HD media, high resolution still and digital audio in the professional broadcast environment.
The HD-RACK/PRO offers a cost-effective and space-efficient solution for broadcast studios and outside broadcast OB Trucks & OB Vans. It delivers crystal clear digital video and digital audio and is designed to offer controlled media store & play-out with 'bullet-proof' reliability.
The HD-RACK/PRO holds compressed high definition 1080P/60 and digital audio media files, and plays them through HDMI, DVI, YPbPr or VGA outputs into any media stream or display monitor. Playout is controlled either through pre-configured playlist schedules, or network / rs-232 triggers.
Storage is provided through removable flash memory cards, which can be updated either locally, using the front-mounted USB port, or through an IP network. Free FTP control software can be used to deliver playlists across a local network or to remote locations through the internet.
The Linux-based player is low power, completely fan-less, silent and supports all major HD video compression formats (including MPEG4, WMV & AVI files). Front mounted playback controls and a track indicator LCD provide added local control and media visibility. All play-out statistics are recorded internally and can be downloaded for compliance review.
The product can be viewed at J7Broadcast Inc's NAB Booth - SL7427 - in Las Vegas between 20th-23rd April 2009.
###