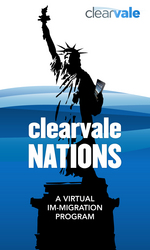 By enabling businesses to rapidly 'immigrate' to our new world, while giving them the ability to identify which communities they'd like to join, we will be able to address several opportunities at once," said Giovanni Rodriguez, CMO, Broadvision.
Redwood City, Calif., Beijing, Milan, and Boston, Mass. (PRWEB) June 15, 2010
BroadVision (NASDAQ: BVSN), a pioneer in e-business and enterprise social networking solutions, today announced "Clearvale Nations," a new offering designed to create incentives for businesses to migrate their online communities and social networks -- or start new networks -- to global vertical communities in Clearvale. BroadVision recently launched the Clearvale™ platform, a "network of networks" where more than 1,000 businesses are already engaging with employees, partners, and customers in an open, navigable cloud-based environment. Starting today and ending July 4, businesses can apply for "permanent residence" in Clearvale and enjoy a range of special incentives. BroadVision announced the new offering today at the Enterprise 2.0 Conference, which is taking place at the Westin Boston Waterfront June 14-17.
One of the key benefits to joining Clearvale Nations is that the network has been architected so that businesses not only can easily create high-performance work environments, but also discover and connect with other businesses in Clearvale as well. Clearvale Nations will create any number of communities of interest organized by industry vertical, geographical, or functional focus.
Making it Easier to Get Started and Connect
"Over the last few years, the world of consumer social networking has educated the business world on the value of smaller, dynamic, discoverable communities of interest," said Giovanni Rodriguez, chief marketing officer, BroadVision. "We've been looking for ways to quickly help our customers on the discovery side. By enabling more businesses to rapidly 'immigrate' to our new world, while giving them the ability to identify which communities they'd like to join, we will be able to address several opportunities at once."
Starting today, any business wishing to start a network in Clearvale can simply use the "Join" feature and either find their company network or have a network instantly created for them. Consistent with BroadVision's philosophical approach of making enterprise social networking simple, secure, scalable, and accessible, the "Join" feature eliminates a lot of the guess work and upfront cost of getting started. Organizations are invited to visit http://www.clearvale.com and click "Join" to experience their very own Clearvale network instantaneously.
Not Just for Ning Customers
Whether a business is building its first network, or whether it chooses to migrate from another platform, it can enjoy the following program benefits:

Up to 50% discount for basic and premium services – for up to one year – depending on the organization's size, sector and location.
Free education for qualified customers.
Participation in any number of Clearvale Nations.
Ning's recent decision to end service for non-paying customers has created a great deal of interest in Clearvale. The Clearvale Nations program may benefit from that decision, but the program is more focused on the growing community of businesses – both large and small – that are looking for a fast, scalable, cost-effective path to the world of enterprise social networking. There are at least two other kinds of customers that would benefit from the Clearvale Nations program:
Businesses that are frustrated with their corporate portals, intranets, and extranets, and are looking to investigate whether an enterprise social networking platform is a better solution for employee, partner and customer collaboration.
Businesses that are frustrated with their current enterprise social networking solutions because of their inability to scale, drive adoption, or help participants navigate beyond the confines of the corporate network.
"With its 'network of networks' architecture, BroadVision's Clearvale platform stands head-and-shoulders over other enterprise social networking platforms," said James Harrington, vice president of global human resources at Synaptics (Nasdaq: SYNA). "The Clearvale Nations program has the potential to take the platform to another level, by enabling businesses to not only to rapidly build and navigate their own ecosystems but to meet and engage other businesses too. We look forward to fully leveraging this program to be more connected and engaged with our staff, partners, and customers around the world."
About BroadVision
Driving innovation since 1993, BroadVision (Nasdaq: BVSN) is an innovative provider of e-business and social networking solutions for organizations seeking to grow profitably by improving online business processes through invited participation and social interaction. Our solutions -- including Clearvale, the world's first network of networks for the socially driven enterprise -- enable mission-critical e-business for next-generation organizations around the globe. The customers benefiting from BroadVision solutions include Baker Hughes, Canon, Epson, Fiat, W.W. Grainger, Hilti, Iberia, Indian Railways Catering and Tourism Company, SINA, Sony, U.S. Navy, Vodafone, Xerox and more. Visit http://www.BroadVision.com for more details. For more information about Clearvale, visit http://www.clearvale.com.
Clearvale and all its case-sensitive permutations are trademarks of BroadVision, Inc. in the United States of America and other countries.
About The Enterprise 2.0 Conference
The Enterprise 2.0 Conference explores the integration of Web 2.0 technologies in the enterprise, from both strategic and tactical perspectives. This annual conference and sponsor pavilion focuses on the tools and techniques that best leverage the technical, productive and social aspects of IT and workgroup environments to build a cohesive collaboration strategy and empower a connected workforce. For more information, visit http://www.e2conf.com.
###