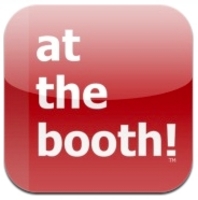 "It may be the best thing to happen to New York theater since, well, the introduction of the TKTS booth." - Entertainment Weekly
New York City, NY (PRWEB) July 25, 2010
In these tough economic times, savvy theatergoers need to satisfy their New York City theater appetites without emptying their wallets. A NYC staple for almost 40 years, the TKTS® booth is the go-to spot for discount theater tickets, but not everyone has the time to make the trek to Times Square. Now, with the iPhone app, At The Booth, they don't have to!
"It may be the best thing to happen to New York theater since, well, the introduction of the TKTS booth." - Entertainment Weekly
Ken Davenport, President of Davenport Media Enterprises and the author of the popular Broadway blog, The Producer's Perspective, is proud to announce the release of the new At The Booth iPhone app, powered by BroadwaySpace.com. With At The Booth, you can see all the TKTS® prices without having to go to Times Square. Just as the prices are updated all day at the TKTS® booth in Times Square, At The Booth is updated throughout the day so that you can get the most up-to-date information on discount theater tickets. At The Booth will even let you know how long the TKTS® line is! At The Booth is also a complete Broadway and Off-Broadway directory with info on EVERY Broadway and Off-Broadway show. In addition to showing users what prices are up on the boards for which shows, At The Booth also includes reviews, cast photos, videos, synopses, performance schedules, running times, cast lists, recent headlines, opening and closing dates, full and group-price ticket information, and a full directory of Broadway and Off-Broadway theaters - including maps to help you get there. And more! Whether you're Broadway's biggest fan, a musical enthusiast, an occasional playgoer, or a tourist looking to see a Broadway show while you're in New York, At The Booth is your go-to source for the best prices for on and Off-Broadway tickets today!
The At The Booth app is available for purchase in the iTunes store now for $0.99. To purchase, click here or visit the iTunes store and search for "At The Booth". For more information, visit AtTheBooth.com.
BroadwaySpace.com is the #1 place for people who love Broadway and Broadway's biggest social network. Full of features on Broadway's best, including recent favorites 'Broadway Stars' High School Photos,' 'Top 10 Broadway Belters,' 'Best Broadway Moms,' and 'Broadway's 50 Most Powerful People;' BroadwaySpace.com offers a virtual space for all of the most passionate friends and fans of the stage. Connecting fans with their favorite stars, and with each other, BroadwaySpace.com also gives its members a chance to connect offline with a regular MeetUp group, where members can see shows together at discount prices!
Ken Davenport, Founder of Davenport Media Enterprises, was featured on a national commercial for Apple's iPhone, named one of Crain's ''Forty Under 40'' in 2008, and dubbed the ''P.T. Barnum of Off-Broadway'' by The New York Times. His Broadway producing credits include Oleanna starring Bill Pullman and Julia Stiles, Speed-the-Plow starring Raul Esparza, Will Ferrell's You're Welcome America (Tony nomination), Blithe Spirit starring Angela Lansbury, and 13. Ken is the only independent producer to have had three shows running simultaneously Off-Broadway - Altar Boyz (co-conceiver), The Awesome 80s Prom (author/director) and My First Time (author/director). Ken recently accepted the 2010 Award of Distinction from the Musical Theatre Society. Current projects include producing the Broadway revivals of Godspell and Aaron Sorkin's A Few Good Men, penning the musical adaptation of Somewhere In Time, launching his latest creative collaboration Miss Abigail's Guide to Dating, Mating & Marriage, and shooting a documentary on one of the top unsigned rock bands in the country - Red Wanting Blue. Ken also runs a number of theatrical websites including BestofOffBroadway.com, DidHeLikeIt.com and Broadway's #1 social networking site - BroadwaySpace.com. His blog, TheProducersPerspective.com, has been featured in Vanity Fair, New York Magazine, The Gothamist and many others. He has written articles for Forbes, Mashable, Imedia and others. For more, visit DavenportTheatrical.com.
###