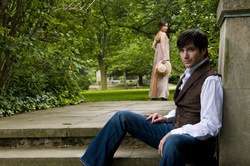 Jane Austen's Pride & Prejudice, A Musical Play
Rochester, NY (PRWEB) July 22, 2008
Producers of a homegrown musical version of Jane Austen's "Pride & Prejudice" want to engage the local community in its journey to Broadway with an exclusive local "first look" on Tuesday, October 21, 2008 at 7:30 p.m. in the upstate city's historic Eastman Theatre.
This special sneak peek of "Jane Austen's Pride & Prejudice, A Musical Play" will feature a 16-piece orchestra made up of members of the prestigious Rochester Philharmonic Orchestra, and Broadway cast members including Colin Donnell (Jersey Boys, Follies) as Mr. Darcy. As the Broadway production is slated for November of 2009, this Rochester-only showcase will not be the eventual full-scale production, but will feature costumes, lighting, simple sets and a professional New York City cast. A red carpet, "paparazzi" and other festivities will lend a Broadway feel to the one-night-only event.
The musical is the work of two Rochester women, Lindsay Warren Baker and Amanda Jacobs, who have spent the past eight years researching and writing the book, music and lyrics. Following a 2004 workshop with the Eastman School of Music, the show had its World Premiere in the summer of 2006 with The Ohio Light Opera. Both productions were directed by Eastman School of Music's Steven Daigle.
"Jane Austen's Pride & Prejudice, A Musical Play" was optioned for Broadway production that fall by the authors' good friend, Rochester's Lori Bajorek, who has since assembled a "dream team" of Broadway professionals that includes Tony Award-nominated Director Mark Lamos ("Our Country's Good," "Seascape," "The Rivals") and Executive Producer Donald C. Farber, Esq., a well-known theatre and film attorney who literally wrote the book on producing Broadway shows.
Actress Polly Bergen ("Follies") starred in the play's first New York City reading in 2007, which attracted national coverage in Playbill and Broadway.com. Bergen also starred as Elizabeth Bennett in "First Impressions," the 1959 Broadway musical adaptation of the novel.
From Tara Rubin Casting to the Charlotte Wilcox Company (General Manager) to Musical Director Fred Lassen, the amassed Broadway credits of this "Pride & Prejudice" production team are impressive enough to open doors and pocketbooks. Indeed, Bajorek is inviting current and potential Broadway producers/investors to the Eastman Theatre show, but she's looking for something "priceless" from the hometown crowd: enthusiasm.
"We really want Rochester to 'own' this show from the start," says Bajorek, a successful local business woman and first-time producer. "This is 'Rochester's Musical,' and we want the whole community to come with us to Broadway!"
Tickets to this exclusive preview of "Jane Austen's Pride & Prejudice, a Musical Play" at Eastman Theatre on October 21 at 7:30 p.m. are $35, $50 and $75 (includes a post-performance reception with performers). They're available at through Ticketmaster by calling 585-232-1900, or online at http://www.ticketmaster.com
Media please note: High-resolution photographs and interviews are available upon request. Please visit http://www.prideandprejudicebroadway.com for press kit and other information.
Contact:
Sally Cohen, Press Contact
Creaking Door Productions
585-749-1795
http://www.prideandprejudicebroadway.com
###