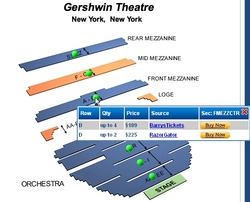 We are very happy with the way things are turning out
Houston, TX (PRWEB) October 16, 2009
SeatKarma.com introduces the first set of six 3-D charts for the most popular Broadway theaters venues. This addition to the SeatKarma dynamic venue map portfolio (composed of roughly 1,200 2D maps) enhances user decision making during the process of shopping for Broadway show tickets. This move further solidifies SeatKarma as a leading search engine for Broadway theater tickets
Maps have been added for the following New York City Theaters:
Gershwin Theater - Wicked
Imperial Theater - Billy Elliot
Minskoff Theater - Lion King
Winter Garden Theater - Mamma Mia!
Vivian Beaumont Theater - South Pacific
Virginia Theater - Jersey Boys
About : SeatKarma is a young web 2.0 start up that has been gaining traction among theater, music and sports lovers around the nation. The website provides a price comparison service - concurrently searching numerous ticket sites to find the best value seats available. SeatKarma is offered free of charge to users, and requires no login. There is also no extra cost to the tickets.
The site boasts a unique graphical interface. To facilitate comparing tickets from different sources, a map of the venue is shown with dots appearing where tickets are available. Hovering over the dots with your mouse reveals more information about the tickets available in that section.
Although users can search for tickets to virtually any live event (the website has ticket information for over 70,000 events at any given time), SeatKarma provides exceptional value to searchers of Broadway show tickets. 3D map renderings of the leading Broadway theaters provide show goers a good feel for where they will be sitting.
SeatKarma's value has not escaped the eyes of the media. The site has been featured in USA Today as a "smarter" way to save on entertainment, in The Washington Post, and most recently in The Houston Chronicle. The truly remarkable thing about this startup is that it was created with no external funding by a couple of graduate students, Chris Nicolaysen and Ohad Nezer.
"We are very happy with the way things are turning out," says Nezer. "It's a great feeling to see something you have been working on for so long being used by the masses. People really appreciate SeatKarma as the place to search for tickets, especially Broadway show tickets."
True to its name, the logo of the site features "Buddy", a laughing Buddha-like character that was custom created for this purpose. Buddy has his own Facebook and Twitter profile pages, which are gaining a growing number of followers among fans, and has also been named honorary CEO of the company.
"We've found that having Buddy in meetings has really streamlined our decision making process," says Nicolaysen.
###