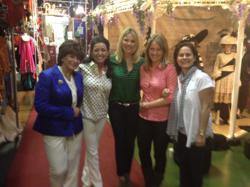 This is more than a Broadway exhibition, we celebrate a collaboration of more than 100 years of authentic Broadway costume design history that I have been building and collecting for the last 36 years," said Costume World's Marilynn Wick
Pompano Beach, FL (PRWEB) March 22, 2012
It all started with five Santa suits in 1977 and now the story unfolds on the NBC Today Show featuring Costume World's Broadway Collection. On March 23rd, 2012 correspondents Jenna Bush and Sara Haines took a walk down Broadway's memory lane with Costume World CEO Marilynn Wick and Curator Kimberly Wick.
"This is more than a Broadway exhibition, we celebrate a collaboration of more than 100 years of authentic Broadway costume design history that I have been building and collecting for the last 36 years," said Costume World's award-winning female entrepreneur Marilynn Wick.
Just what happened behind the red velvet curtain when the Today Show visited Costume World's Broadway Collection last week in Pompano Beach, Florida?
7:00 am - 9:00 am Today Show producer Yael Federbush arrived for set up with her camera crew
9:00 am- 10:00 am Jenna Bush interviews Marilynn about how it all got started and the Broadway costume milestones that brought such a collection to the Sunshine State
11:00 am - 12:00 Sara Haines and Jenna Bush join in on the Broadway Collection's daily tour with 66 other theatre enthusiasts. Curator Kim Wick hosts the interactive tour through the decades and aisles of costume sets of My Fair Lady, The King and I, Sound of Music, Once Upon a Mattress, The Producers and 42nd Street and many more.
42nd Street Surprise visit! Wanda Richert, who played the lead role in the original 42nd Street Broadway musical, and her daughter make a surprise visit and pay a tribute to her original costume showcased at The Broadway Collection.
12:00 Brunch is served Tavern on the Green style right under the actual chandelier and donned with the original china from the fashionable stop after a Broadway play back in the day.
12:30 Broadway entertainment song and dance comes to life from some of our favorites including Fiddler on the Roof
1:00 Marilynn Wick, Costume World founder and CEO, gives the crowd an inspiring recount of how she made it all happen one costume collection at a time.
2:00 the tour is over but things just get started with Jenna and Sara as they take over the stage. Jenna becomes, what may be her alter ego, playing the part of a strict French director and Sara is the cast trying out for parts in Cats, Les Misérables and The King and I.
5:00 It's a wrap for Jenna and Sara, but Kim Wick is back in front of the camera taking the NBC crew through some of the vintage archives including Vaudeville play bills from the 18th century and original sketches from many of Broadway's most memorable costumes.
Watch The Broadway Collection on The Today show http://video.today.msnbc.msn.com/today/46806655#46806655
What is Wick's secret to success? Love what you do!
"I've had an affinity for the theatre since I was seven-years-old when I saw my first Broadway play," Wick told NBC. "I figured out a way to make Broadway part of my everyday life it so immensely rewarding knowing that I am helping to preserve and continue the historical legacy of these costumes that may have very well been sold off piece by piece as some of these costume houses where sold over the years."
Marilynn Wick and her daughters Kimberly Wick and Kelly Wick Kigar plan on adding to the Broadway Collection as new Broadway wardrobes become available.
The Broadway Collection by Costume World is a 30,000 square foot exhibition celebrating more than 100 years of the finest costumes ever brought to the Broadway stage by the most honored and respected designers in the history of American Theatre.
The Broadway Collection is open by reservation only via Tours, Luncheons, Special Events, Private Parties, Media Events, Photography and Production Sets.
Located at
2315 NW 30th Place
Pompano Beach, FL 33069
954-972-7929
http://www.costumeworld.com
Facebook.com/broadwaycollection