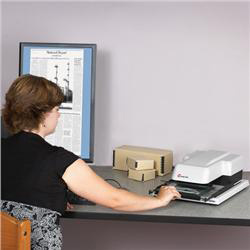 Mc Elhattan, PA (Vocus) February 18, 2010
Brodart Supplies & Furnishings, based in McElhatten, Pa., features a unique and customizable scanner, allowing users to choose their lens, film carrier, and more.
Brodart offers customers the unique ScanPro 2000 manufactured by microfilm expert, eImage Data. The ScanPro 2000 is the latest and greatest in powerful and user friendly microform scanners. Customers can choose an optical zoom lens either 7-54 or 7-105x strong. The lens is factory installed for quick and easy set-up. The scanner's high resolution can scan at any magnification in one second, and then save in popular file formats such as TIFF, JPEG, PDF, and more. The scanner has several automatic features for simple use including focus, brightness, contrast, crop, and image framing. It features live viewing and editing capabilities on any Windows compatible video display. It also features enhancement of grayscale and halftone images. All of these features amount to a simple scanning process, and the highest-quality scan possible.
The base scanner includes scanning software, cables, manual, and FireWire card. Optional upgrades include Micro Opaque, Ultra Fiche, and software plug-in for automatic hands-free roll film scanning.
To take a look at Brodart's
ScanPro 2000.
ABOUT BRODART CO.
Since 1939, Schools and Libraries alike have turned to Brodart Supplies & Furnishings for everything to keep their libraries running smoothly. From book covers and book supports to kids wall murals, Brodart Supplies & Furnishings is a one stop shop for all your library supplies. From humble beginnings, Brodart has grown to become an international company, serving libraries from the Northwest Territories to the Pacific Rim, with facilities in the United States and Canada. Brodart truly has evolved into a full-service library supply company. For additional information about Brodart Supplies & Furnishings, please visit shopbrodart.com or brodart.ca for our Canadian users, or call 1.888.820.4377 in the United States or 1.800.265.8470 from Canada.
###