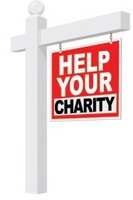 Regardless of our individual motivations, there is a common desire in all of us to help others
Scottsdale, AZ (PRWEB) July 29, 2009
Brokers for Charity, LLC donates 10% of residential and commercial real estate commissions to the nonprofit of the client's choice. Buyers and sellers get to choose the nonprofit 501(c)(3) organization that will receive the donation when their transaction closes.
"Regardless of our individual motivations, there is a common desire in all of us to help others," says Janae Jaynes-Learned, Designated Broker and Managing Partner of Brokers for Charity. "We have taken the concept behind Newman's Own and Bono's Red Brand into the real estate market. We provide an additional opportunity for people to make a difference combining real estate transactions and social responsibility."
How Brokers for Charity works: When a business or consumer wants buy or sell a property anywhere in the US or Canada, they give Brokers for Charity their criteria and they are paired with a qualified broker. When their transaction closes, Brokers for Charity receives a referral fee from the broker and makes the donation to the nonprofit of the client's choice. The donation is 10% of the referred agent's commission. For example, on a $400,000 transaction if the agent's commission were 3%, or $12,000, Brokers for Charity would donate $1,200 to the chosen nonprofit.
"Right now our service is even more critical to charities, and we've had so many contacting us," says Jaynes-Learned. "Many nonprofit organizations are really feeling the impact from our current economy." Statistics reported for the last three months alone by Guidestar, a nonprofit resource organization, show that over half (52%) of nonprofits have received fewer contributions, and eight percent are nearly closing their doors. Individual contributions have fallen, and so have grants.
Brokers for Charity intends to encourage change in the way businesses and consumers buy and sell commercial and residential real estate. While providing quality real estate referrals, new business to real estate professionals, and donations to nonprofit organizations, the ultimate goal of combining real estate and social responsibility will be achieved.
With the billions of dollars in real estate commissions paid annually, the potential for Brokers for Charity to have an impact on nonprofit organizations is tremendous. "The key is really to get the word out to consumers and businesses," says Jaynes-Learned. "If people and businesses can support a worthy cause through their real estate transactions, without paying extra, why wouldn't they?"
###