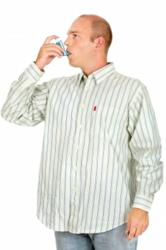 This new formula offers one of the only homeopathic solutions available to help relieve the symptoms common with airway constriction.
Seattle, Washington (PRWEB) January 16, 2013
Over 34 million Americans struggle with asthma and its related symptoms each year. Medical inhalers and other treatments are available although results can vary with each use. The Asthmamist company has launched its bronchial asthma relief formula for adults online. This new formula offers one of the only homeopathic solutions available to help relieve the symptoms common with airway constriction.
Inflammation in the bronchial tubes is one element that can lead to shortness of breath. Men and women who have forms of asthma and avoid participation in athletic abilities could benefit from the new formula released. While this formula is not a replacement for an inhaler, the natural ingredients inside include active mixtures of some of the most common ways to treat inflammation and other conditions related to a constricted airway.
The natural ingredients inside of this new product includes Arsenicum Album, Belladonna and Blatta Orientalis. These have been clinically reported to help treat asthma and bronchitis during outbreaks. These ingredients and others that are formulated for use are administered through a spray solution.
This spray offers an alternative to breathing treatments that include steroids or other medically related drugs. Two sprays up to three times daily underneath the tongue of a man or woman is the recommended dosage to experience relief.
While the American Lung Association reports there is no current cure for asthma, this lung disease can be controlled with relief options. The homeopathic relief now provided is one example of the various methods that can be used to relieve airway disruptions and inflammation. The protection and prevention of outbreaks is one of the struggles that adults suffering from airway problems manage on a day-to-day basis.
To go with the new product launch, men and women who sample this new spray solution now receive the full support of the 90-day guarantee. This support system is in place to help those searching for immediate and long-term relief from bronchial difficulties. The Asthmamist product is offered for a 3-month period of time and is now packaged with single or multiple month bottles to provide the right mixture of relief to adults. Special incentives for this product can be found on the details section of the company homepage.
About Asthmamist Co.
The Asthmamist Co. was founded in 2002 and provides one of the only known homeopathic relief methods to control bronchial conditions and airway inflammation. The all-natural ingredients that are used to manufacture each company produced formula have helped earn this company a membership into the Natural Products Association. This distinguished membership is one example of recognition for excellence in health and wellness products. The Asthmamist Co. offers its complete line of relief solutions entirely online and pairs each product with a supported guarantee of results. The research and development procedures in use by this company have helped it to be one of the leaders in holistic at-home relief products.