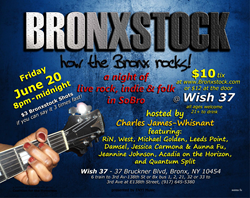 Bronxstock, for the love of Rock!
Bronx, New York (PRWEB) June 13, 2014
The birthplace of Hip Hop has rock music fans. It's not easy to find live music in the Boogie Down, whether it's Hip Hop or any other genre. Bronxstock is for these Bronxites and everyone in or around NYC who loves live rock.
This event was started by Aunna Fu, a Bronx native and musician. She decided to get some artists together in the South Bronx, recently known also as SoBro, and thus Bronxstock was born. Ironically, the first ever Bronxstock is set to take place across the street from the building site of the National Museum of Hip Hop.
Bronxstock is Friday, June 20th, from 8pm to midnight. Charles James-Whisnant will host. Acts include RiN, Jeannine Johnson, Jessica Carmona, West, Michael Golden, Damsel, Quantum Split, Leeds Point, Acadia on the Horizon and Aunna Fu. The venue is Wish 37 @ 37 Bruckner Boulevard, Bronx, New York 10454. Tickets are available at http://www.Bronxstock.com.