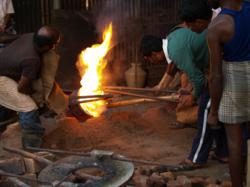 We are proud to be able to provide the highest quality pieces to Hindus, Buddhists and art lovers, while also helping keep an important artistic tradition alive.
Oceanside, CA (PRWEB) September 14, 2012
When quantity over quality, pricing wars, and cast molding are the normal standards of most Buddha and Hindu Gods statue distributors, Lotus Sculpture stands apart from the rest. They import the finest, hand-made, Hindu bronze statues created by the "lost wax method". This method is an ancient art form where the process reflects the name; the wax is actually "lost" as it is melted out of a distinctive mold. Due to its' durability and allure, the method has been practiced for over 6,000 years.
"With the steady growth of Lotus Sculpture and demand for our one-of-a-kind, polished bronze lost-wax statues, I have been able to directly support talented artisans and see their workshops flourish," said Kyle Tortora, Owner & Founder of Lotus Sculpture. "We are proud to be able to provide the highest quality pieces to Hindus, Buddhists and art lovers, while also helping keep an important artistic tradition alive."
Lost wax casting emerged in China, Egypt and Greece, but was significant during the Chola Dynasty, which ruled southern India from the 9th to 13th Century. The Cholas adhered to Hinduism and created massive temples and bronze statues to worship their gods. The techniques of this delicate and time-consuming casting process have been passed down from family artisans for generations. The Indian and Bengali lost-wax artisans of today are direct descendants from the Chola and Pala Empires.
The differences between the process and authenticity of lost cast wax and mechanically molded statues are vast. Most obviously, one sculpture is hand-carved with individual and unique features, while the other is repeatedly cast-molded by a machine in very little time. The artisans take pride in their work and make sure each component is of the up most beauty and perfection. Depending on the size of the sculpture, it can take one month to a year to complete the finished lost-wax masterpiece.
The creation process of a bronze lost-wax statue is divided into categorical stages. First, a model of the idol is formed in a wax comprised of paraffin and bee's wax. The wax model is a replica of the final bronzed piece. Next, clay is repeatedly painted on the hardened wax model to coat the entire surface of the piece. The wax form, which becomes fully encased with a mold of clay, has small holes punctured at the bottom and is placed in a primitive oven. The extreme heat allows the wax to "burn out" of the clay and leave a hollow space to be filled with a melted bronze mixture. This is where the term "lost wax method" originates. After cooling, the clay model is broken open to reveal the underlying bronzed statue. Lastly, many days of intense craftsmanship, by the most talented artisans, are used in the final stage of production. Fine details are carved into the bronze sculpture, and it is further embellished by sanding away any scratches for a refined shine.
Owner, Tortora has been traveling to India and Southeast Asia for over a decade in search of the most talented and well-respected lost-wax artisans. He currently works with a main-stay of five bronze collectives from Bangladesh to South India, ranging from 7 to 35 artisans, who produce both Hindu God and Buddha statues. "The artistry of the bronze statues we commission has steadily increased," said Tortora. "We hold the artists to the highest standard of quality and perfection of the finest details."
A lost-wax sculpture is appreciated, not only for its beauty, but for the many hours of labor and craftsmanship that is put into each masterpiece. Each statue is distinct and holds a story of creation and history that is unparalleled. As art forms continue to evolve with technology, the "lost wax method" carries on an unrivaled and divine tradition.
Lotus Sculpture is an online gallery, now with a showroom, located at 1834 Ord Way in Oceanside, CA.