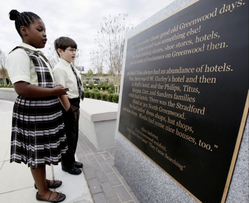 "The bronze plaques are critical to retelling this important piece of history.
Tulsa, OK (PRWEB) October 31, 2010
The mostly untold story of the 1921 Tulsa Race Riots now has a permanent voice at John Hope Franklin Reconciliation Park in Tulsa.
The park features a majestic 25-foot-tall bronze tower encircled by 12 large bronze memorial plaques that faithfully recount what ignited, and transpired during and after, one of the most tragic race-related events in our nation's history. Until now, the story has been largely suppressed. However, the plaques now make public a chronicle of injustice, fear, vigilante behavior, and extraordinary loss and destruction.The bronze plaques are the work of sign company Impact Architectural Signs.
"It is painful to realize that what can only be described as 'ethnic cleansing' took place in our nation, and that it has been virtually wiped from the history books,'' said U.S. Rep. Jerrold Nadler, D-N.Y., chairman of the House Subcommittee on the Constitution, Civil Rights and Civil Liberties. "No one was ever convicted for this outrage.''
"Racism, and its violent manifestations, are part of (the) nation's past that we cannot avoid,'' Rep. John Conyers, D-Mich, said.
Impact! Architectural Signs VP Shabbir Moosabhoy states, "Participating on this historic project has been an honor for us. Having been selected to do the work is quite humbling."
The statue's sculptor, and park designer, Ed Dwight adds, "The bronze plaques are critical to retelling this important piece of history. They help to make the vision a reality for those who will come here for generations to come."
Among those attending the dedication ceremony Wednesday was John W. Franklin, son of the late John Hope Franklin, who commented that the memorial plaques are a great tribute to history.
The Tulsa Race Riot, set off on May 31, 1921, took 39 lives, sent hundreds to area hospitals, and left an estimated 10,000 residents homeless as a result of widespread fires and vandalism
For more information:
Impact! Architectural Signs designs, produces and installs commercial quality dimensional lettering, metal plaques, and custom logos. To learn more, visit http://www.impactsigns.com.
CONTACT:
Shabbir Moosabhoy
Impact! Architectural Signs
2215 South Wolf Rd.
Hillside, IL 60162
Phone 708.492.0135
# # #