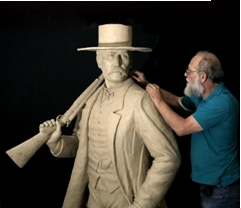 Because there is only a limited edition of 30 bronze macquettes (replicas), western art and history collectors recognize that their value will not only increase monetarily but historically
Tombstone, AZ (PRWEB) October 29, 2008
Wyatt Earp is returning to Tombstone, Arizona.
The legendary lawman will appear when an immaculately composed, larger-than-life, bronze statue of him is unveiled at a major event scheduled for 2:30 p.m., Friday, November 14, 2008 at the Wyatt Earp House and Gallery, located 102 E. Freemont Street in Tombstone.
Created by Arizona's premier master sculptor, Tim Trask, the stunning statue reaches an impressive scale of eight-feet high and accurately captures the likeness and charisma of the fabled Wyatt Earp.
"We've had two important events in Tombstone in the last few years. The first was the 125th Anniversary a couple of years ago and the other one will be the unveiling of this statue!" said Ben Traywick, a celebrated author and Old West historian. Mr. Traywick is the event's keynote speaker.
Titled: "Stepping into Legend," the statue shows Wyatt Earp poised to take that first stride toward the notorious OK Corral, where the most famous Old West gun battle took place. Wearing a flat-brimmed cowboy hat, his steely eyes are sharply focused with courage and determination. No other depiction of Wyatt Earp is as haunting or as evocative as Trask's timeless bronze sculpture.
Trask is the owner of The Gallery of Dreams, a uniquely special fine art emporium in St. David, Arizona. Over the years he has earned a stellar reputation as a peerless visual artist. Trask has been a sculptor for over 37 years; currently he specializes in monumental, larger than life sculpture in bronze, cement and stone sculpture. His phenomenal attention to portraiture detail and historical accuracy has gained media attention and enthusiastic collectors from all over the globe.
Among other speakers, the Earp family will be represented by Ralph N. Earp from Pennsylvania. Steve Vermillion of Missouri will appear for the so-called "Federal Possee." Wild West History Association founding president, Bob McCubbin, will be called upon to address the throng. Terry "Ike" Clanton will be asked to say a few words on behalf of "The Cowboys," including The Notorious Clanton Clan.
Western enthusiasts and collectors are also expected to attend the event. Trask has received overwhelming support and interest during the sculpting process. Many of them have already purchased the 22-inch bronze replica of "Stepping into Legend". "Because there is only a limited edition of 30 bronze macquettes (replicas), western art and history collectors recognize that their value will not only increase monetarily but historically," said Trask. Over half of the macquettes have been sold.
For more information please call The Gallery of Dreams at 520-720-2649 or email agalleryofdreams @ yahoo.com.
###