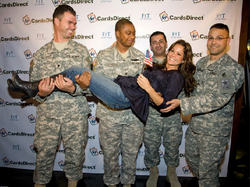 While we approach a new year with a new administration, it's so important to remember that there are still men and women in active duty overseas
Los Angeles, CA (PRWEB) December 9, 2008
Dancing with the Stars winner Brooke Burke joined CardsDirect.com, a leader in personalized greeting cards for consumers and Fortune 500 companies alike, in Los Angeles today to sign and send over 1,000 holiday greeting cards to U.S. troops overseas.
Burke was joined by CardsDirect.com CEO Ward Mahowald and fifty volunteers from For The Troops, a nonprofit organization dedicated to sending care packages to front line troops stationed in Iraq and Afghanistan.
To help encourage their consumers to support this initiative, CardsDirect.com will donate twenty percent of proceeds on these cards to the foundation to allow them to continue to send greetings and care packages to the troops throughout the holiday season.
"While we approach a new year with a new administration, it's so important to remember that there are still men and women in active duty overseas," said Burke who herself, signed and personalized hundreds of CardsDirect.com greeting cards. "I wanted to personally thank them, especially those who will not be able to come home to their families for the Holidays."
All of the cards provided by CardsDirect and signed at the holiday card drive event are part of their new collection of 100% recycled greeting cards and are available for purchase at http://www.cardsdirect.com.
About CardsDirect
Serving Fortune 500 companies (and proudly all of the Fortune 100) since 1998, CardsDirect LLC has grown into one of the most trusted resources for custom imprinted card and stationery products in the country. Based in Plano, Texas, CardsDirect is a privately-owned company with over 30 full-time employees. The company manages the design, manufacturing and shipment of approximately 2,500 card designs annually. In this electronic age of emails, faxes and cell phones, CardsDirect stands on the belief that traditional hand signed Birthday Cards, Thank You Cards, or Holiday Cards can have a dramatic impact now more than ever.
Contact:
CardsDirect
Linda Dowdy
469-241-3900 x 124
###