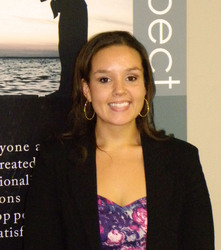 Irvine, CA (PRWEB) November 5, 2009
Professional Reprographics, Orange County's fastest growing reprographics company is pleased to present Brooke Sanders to the company. Brooke joins the company as their graphics/PR specialist. The addition of Brooke to the company represents continued and consistent growth within Professional Reprographics.
Brooke brings with her over five years of graphics, print, and PR experience and over 7 years customer service experience. Having just graduated last December from Cal Poly State University San Luis Obispo Brooke is eager and ready to dive into her career. "First impressions say it all, and I am here to make sure Pro Repro's first impression is one you will remember," notes Brooke.
Brooke holds a B.S. in Graphic Communications from California Polytechnic State University San Luis Obispo. Brooke also teaches cycle classes and volunteers for the Relay for Life organization.
Professional Reprographics specializes in reprographic technology and facilities management for architecture, construction, and engineering firms in Orange County. Staying on the forefront of technology, Pro Repro offers 3D modeling services as well as an in house recycling program known as SRS, Sustainable Reprographic Solutions, to promote a cleaner environment.
###