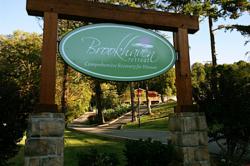 "It doesn't matter how you got into a problem. It matters how you come out of it." - Jacqueline Dawes, founder Brookhaven Retreat
Knoxville, TN (PRWEB) April 19, 2012
Brookhaven Retreat participated in the process of becoming an accredited organization through the Joint Commission on Accreditation of Healthcare Organizations (JCAHO) for the second time. As a result of the survey, there were no requirements for improvement identified. Accreditation became effective April 7th, 2012 and is valid for up to 36 months.
To be accredited, Brookhaven Retreat first had to volunteer to undergo the challenging process. Behavioral Health Care Accreditation is very valuable to Brookhaven Retreat because it ensures that the organization is in compliance with state regulations or licensure requirements. Furthermore, it provides a working system that provides structure for the organizations to help handle risk and to increase the quality of care, treatment, and services.
Accreditation is nationally recognized to be the Gold Standard in health care. The JCAHO gold seal of approval is earned and maintained by having a comprehensive survey by the Joint Commission once every three years. During the challenging survey, Brookhaven Retreat had to meet JCAHO performance standards, safety, and quality.
What are the benefits?

Improves risk management and risk education
Strengthens community confidence in the quality and safety of care, treatment, and service
Competitive edge in the marketplace
Provides education on good practices to improve business operations
Provides professional advice and counsel, enhancing staff education
Increases staff recruitment and development
Recognized by select insurers and other third parties
What happens during the survey?
The JCAHO surveyor interviews the staff, tours the facility, observes how the facility is run, and looks over documentation that they select. All of this is done so they can understand how the organization is compliant with the JCAHO standards. These standards are what addresses the organization's level of performance and are based on maximum achievable expectations, and set forth performance expectations for activities that affect the quality of resident care.
About Brookhaven Retreat
Brookhaven Retreat is a women's treatment center nestled on a naturally beautiful 48-acre site secluded in the foothills of the Great Smoky Mountains. It has helped hundreds of women across the United States overcome depression, trauma, anxiety, substance use and a range of other behavioral health challenges. Brookhaven's Founder, Jacqueline Dawes, has predicated its gender-specific treatment on "healing emotional breakage" for women. In this way, she has established a sanctuary and a place where women can feel safe, secure and cared for by a staff of highly trained professionals.
Reference
The Joint Commission on Accreditation of Health Care Organizations (JCAHO)