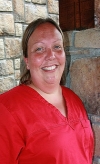 The best part for me is seeing how the clients (ladies) take back control of their lives once they have completed the program. - Angie Hurst, Registered Nurse on working at Brookhaven Retreat
Knoxville, TN (PRWEB) May 11, 2012
National Nurses Week is celebrated annually from May 6, which is known as National Nurses Day, through May 12, the birthday of Florence Nightingale, founder of modern nursing.
As an invaluable asset to Brookhaven Retreat, they are excited for this week because it gives them the opportunity to properly recognize their outstanding nursing staff.
Brookhaven Retreat prides itself on having a top of the line nursing staff. The nurses are part of the foundation of Brookhaven Retreat and are committed to their practice. The nurses devote their time and energy to ensure that Brookhaven Retreat clients receive the best care and treatment possible. They always go above and beyond what is asked of them and their continued service and permanence within the facility provides a healthy stable environment ideal for healing.
About Brookhaven Retreat
Brookhaven Retreat is a women's treatment center nestled on a naturally beautiful 48-acre site secluded in the foothills of the Great Smoky Mountains. It has helped hundreds of women across the United States overcome depression, trauma, anxiety, substance use and a range of other behavioral health challenges. Brookhaven's Founder, Jacqueline Dawes, has predicated its gender-specific treatment on "healing emotional breakage" for women. In this way, she has established a sanctuary and a place where women can feel safe, secure and cared for by a staff of highly trained professionals.